Parliament to debate banning Trump from the UK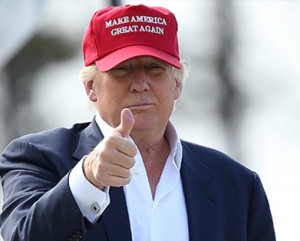 From the New York website: GOP front-runner Donald Trump may be forced to swallow some of his own medicine.
Later this month, the British parliament will officially debate a proposal to ban the outspoken developer from entering the country.
A public petition calling for the ban received 550,000 signatures. In Britain, all such petitions that are signed by over 100,000 thousand people must be officially considered for debate in parliament.
The government said Tuesday the issue would actually come to the floor, The Hill reported.
Trump's campaign condemned the announcement in harsh terms.
"Westminster would create a dangerous precedent and send a terrible message to the world that the United Kingdom opposes free speech," a spokesperson told Fox News.
Trump infamously called for a temporary ban on all Muslims entering the U.S., following the terrorist attacks in Paris, France and San Bernardino, CA.
"Donald J. Trump is calling for a total and complete shutdown of Muslims entering the United States until our country's representatives can figure out what is going on," a statement from his campaign said.
Trump's development firm – the Trump Organization – also threatened to pull the plug on its U.K. investments.
The proposal was widely condemned by U.S. politicians, with no less than former Vice President Dick Cheney saying it "goes against everything we stand for and believe in."
David Cameron, Britain's prime minister, called the idea "divisive, unhelpful and quite simply wrong."
The Real Deal recently reported that the Zeckendorf brothers were splitting their 2016 presidential campaign contributions between Trump and Democratic rival Hillary Clinton. [TheHill and Fox News] – Ariel Stulberg