Westdale Wynwood mixed-use project rejected by Miami planning board
Dallas REIT wants to build a 202-unit apartment complex with office and commercial space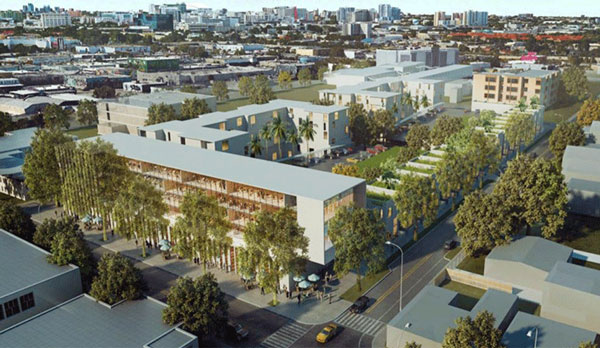 Citing a need to preserve properties for low-income households in Wynwood, the Miami Planning and Zoning Appeals Board rejected a Dallas-based multifamily developer's request to rezone more than a dozen duplexes and single-family homes for commercial use.
Westdale Real Estate Investment Management is looking to build a 202-unit apartment complex with some office and commercial space on a 3.42-acre site that is currently occupied by 19 properties purchased last year for a combined $16.39 million by an affiliate led by company CEO Joseph Beard. The parcels are located about a block north of Northwest 29th Street between Northwest Second Avenue and Northwest Third Avenue.
To be called Westdale Wynwood, the proposed development would consist of a mix of buildings, including three-story towers on the northern and western parcels and townhouse-style apartments on the southern lots.
Prior to the board's nay vote at its Wednsday meeting, board member Anthony Parrish acknowledged stopping redevelopment in Wynwood was an unlikely proposition, but questioned whether the city should have a hand in speeding up changes in the constantly evolving, trendy neighborhood.
"Do we want to accelerate the change by allowing folks to go forward with a development that is fairly reasonable," Parrish said. "This will definitely accelerate the pace of change [in Wynwood]."
City planners Efren Nunez and Ryan Shedd informed the board that approving Westdale's rezoning requests would be inconsistent with Miami's comprehensive master plan and Miami 21 zoning code. Nunez said the changes would alter the character of the neighborhood and allow commercial development to encroach on residential homes on the northern side of the proposed complex. He also said the vast majority of the properties Westdale owns were built in the early 1920s and early 1930s.
"One of the goals of the comprehensive plan is to preserve and protect neighborhoods," he said.
Shedd noted Westdale Wynwood could displace low-income households in an area where the median rent is $672. As of Sept. 30, the median rent price in Miami-Dade for a one-bedroom apartment was $1,981, according to Zillow.
"It is replacing existing housing that is serving a purpose for people in the neighborhood," Shedd said. "By continued displacement of low-income households, we are encouraging the concentration of low-income households in high-poverty neighborhoods."
Steven Wernick, a land-use attorney representing Westdale, countered that the new apartments would provide a mix of housing options in Wynwood and that his client has agreed to set aside at least 10 units for workforce housing. "This does not create a domino effect," he said. "It allows for more housing."