Génial! Estée Lauder renews giant space at GM Building
Boston Properties execs see challenges in high-end office market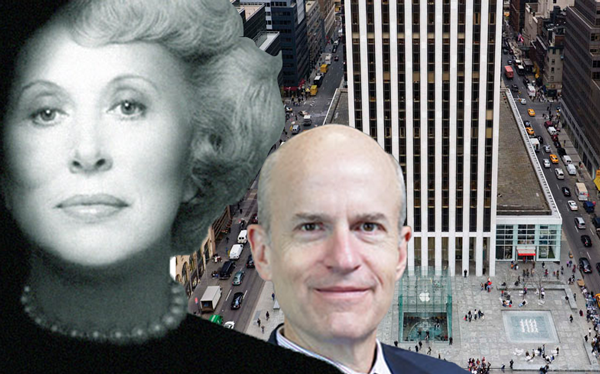 Estée Lauder signed a lease renewal for 220,000 square feet at the General Motors Building, landlord Boston Properties announced. The company would not comment on the rent, other than to say that it is higher than it was before.
The cosmetics giant's current deal in the building, for close to 300,000 square feet, expires in 2020. The company had considered a move, but ultimately decided to stay put and downsize at the GM Building. Boston Properties said the new deal includes an option to increase its footprint beyond 220,000 square feet.
Meanwhile, the market for New York's priciest office space is facing challenges amid a surge in new construction, the real estate investment trust said during an earnings call Wednesday.
"The market is very flat in terms of pricing" and landlords are forced to offer greater concessions, said Doug Linde, president of the firm. Plenty of tenants are still willing to pay top dollar for office space, but "the challenge in the market in Manhattan is that the tenant paying in excess of $100 per square foot is a smaller tenant."
Linde said it's "hard to imagine" there are enough big tenants to fill up hundreds of thousands of square feet of space at triple-digit rents. SL Green Realty, one of Boston Properties' biggest rivals, hopes to lease out its 1.7-million-square-foot development One Vanderbilt at an average rent of $155 per square foot.
Boston Properties' CEO Owen Thomas said he expects the city's office market to absorb new supply from developments like Hudson Yards, Manhattan West and the World Trade Center — provided the city's economy and job market continue to grow at its current rate – which he acknowledged is a big "if."
On the investment-sales front, Thomas dismissed recent reports that Chinese investors are disappearing from the U.S. market amid stricter capital controls. While he acknowledged that some Chinese firms "have been taken out of the market," he argued that "if anything, the Chinese capital has been quite robust over the last quarter."
John Powers, who heads the New York region for the REIT, gave an update on Dock 72, the office building in the Brooklyn Navy Yard Boston Properties is building in partnership with Rudin Management and WeWork. Although scheduled for 2018, the developers have no leases in the works beyond the anchor deal with WeWork.
"I think this is a product that will lease when people see it," Powers said. He acknowledged the project faces "transportation issues" but claims the city's expanded ferry service, which now reaches the Navy Yard, is a "big plus."