sponsored by:
Take Your Luxury Amenities to the Next Level with California Closets, New York.
Stand apart from your competition by partnering with California Closets, New York to take your luxury amenities from standard to lavish.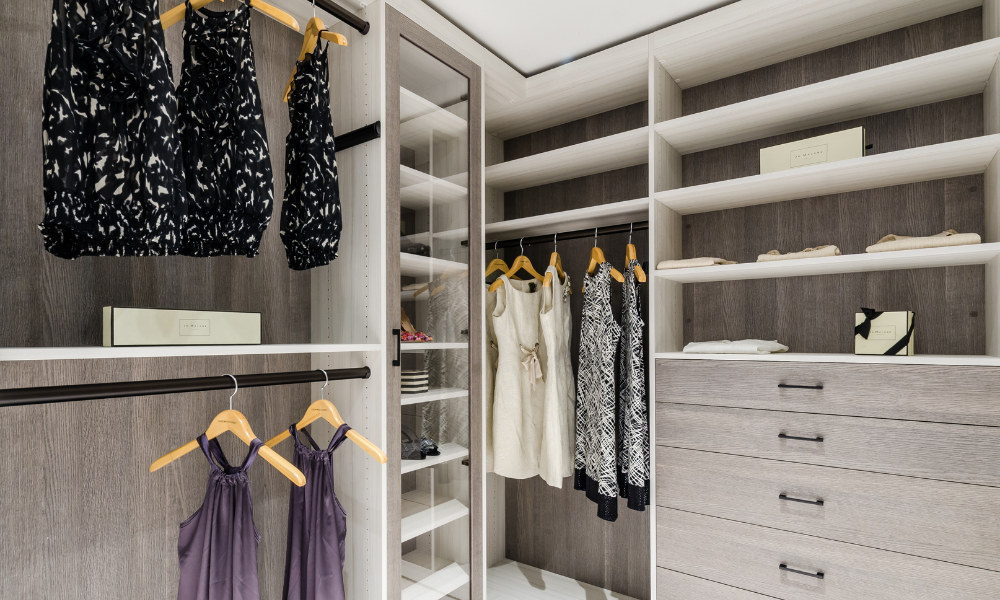 By: Kristina Baker
The pandemic has shifted the luxury market in more than one way, the main being a renewed focus on the meaning of home. Home has become so much more than a place to lay your head at night; evolving into home offices, your children's classrooms, at-home movie theaters, exercise rooms, a chef's kitchen. Luxury amenities have become a hot commodity, presenting as a sole focus for buyers now.
California Closets is committed to delivering innovative, customized storage solutions for all areas of the home. Through our focus on quality, we attract the ideal resident and can meet the demands of the homeowner's new need for luxury amenities. As design experts in the art and science of space maximization, excellence is the foundation of our longstanding reputation. We offer a variety of incentive programs, customized models, and more, showcasing a custom solution's lasting value and potential.

A Trusted Partner for Success
With over 41 years of experience in the luxury design industry, California Closets has earned its position as today's preferred trade partner. Working with several different types of partners in the industry such as interior designers, developers, realtors, architects and more, we understand your needs may vary and are careful to tailor each trade partner's experience to their preferred standards.
Whether it be adding that extra perk for prospective residents in your building's model unit or offering our services to your clients, we can help you attract the right individuals for your projects. Our custom storage solutions help distinguish yourself from others, taking your incentives for your client's needs to the next level. Through our model program, we can design and stage inspirational solutions for your prospective tenants. Our focus is not only limited to closets, we can create storage solutions for entertainment centers, home offices, mudrooms, commercial office space, libraries, pantries, and more.
Our designer's passions to create unique, space – optimizing designs alongside our trusted customer service continues to exceed expectations. With our 3D CAD software, we will create a virtual model so you can see your custom design come to life with your specific aesthetic preferences. This will show you how the design works within your space. Any changes that you want will be made by your designer right there on the spot, working with you to make sure it is exactly what you had envisioned.
Premium Product Line
Starting with your complimentary design consultation, we are able to streamline your California Closets experience with our 60,000 sq ft local manufacturing plant in Westchester, New York. Offering an extensive line of finish colors, lighting options, accessories and sustainable materials from the United States and Europe; your custom-crafted solution is highly durable, backed by a limited lifetime warranty.
Knowing everyone's aesthetic preferences vary based on personal tastes, we offer an array of different colors and textures to fully customize your dream storage solution. From classic shades of white, natural and gray colors, to darker, more distinctive textures to emulate your decorative hardware choices. All of our materials are eco-friendly, being created from recycled wood fibers called melamine. Not only is it more sustainable for the environment, it is also longer-lasting and easier to care for than standard wood.
There are no limitations to how you can enhance your custom unit. The simple addition of lighting to a space not only makes your items easily visible with more accessibility, it also illuminates your system creating an exceptional display with a boutique look to it. LED lighting automatically heightens the ambiance of a room. Including sensor lights to turn on when you open your drawer, lighting along your closet rods, lighted shelves for your shoe wall storage or media center to highlight your treasured belongings, and even floor or puck lighting will inevitably bring your storage space to life.
Even our array of specialty accessories takes your organization game to a whole new level, creating a designated spot for every item. From drawer dividers to pull out racks, decorative yet efficient hooks, valet rods, closet poles to hampers, will all coincide together to elevate your system from basic to remarkable.
White Glove Service
Everything we do here at California Closets is in-house with no outside sub-contractors, creating an easy and efficient process. Your new system will be installed with white glove service on a timeline that works best for you. Our installers work for us full-time, and all complete a training program that not only teaches them the proper installation and safety skills when installing, but also trains them to deliver excellent customer service.
Always delivering professional installations by our expert team, we understand that at times like these, a pandemic could present feelings of unease when welcoming new people in your home. With our newly integrated touchless service, we are following federal protocol with instilling all of our installers to wear PPE, thoroughly wipe everything down making it clean and ready for use. We understand that it is a privilege to allow us in your home keeping you, as well as our employees safe and healthy in light of these challenging times is of utmost importance.
By: Kristina Baker, Marketing & Trade Coordinator at California Closets, New York
Contact: Masha Alimova, Director of Marketing at California Closets, New York
E. marketing@caliclosets.com T. 914.592.1001