Developers getting land discounts for market-rate homes in Bronzeville
A city program offers up deals on city-owned land to spur development in the 3rd Ward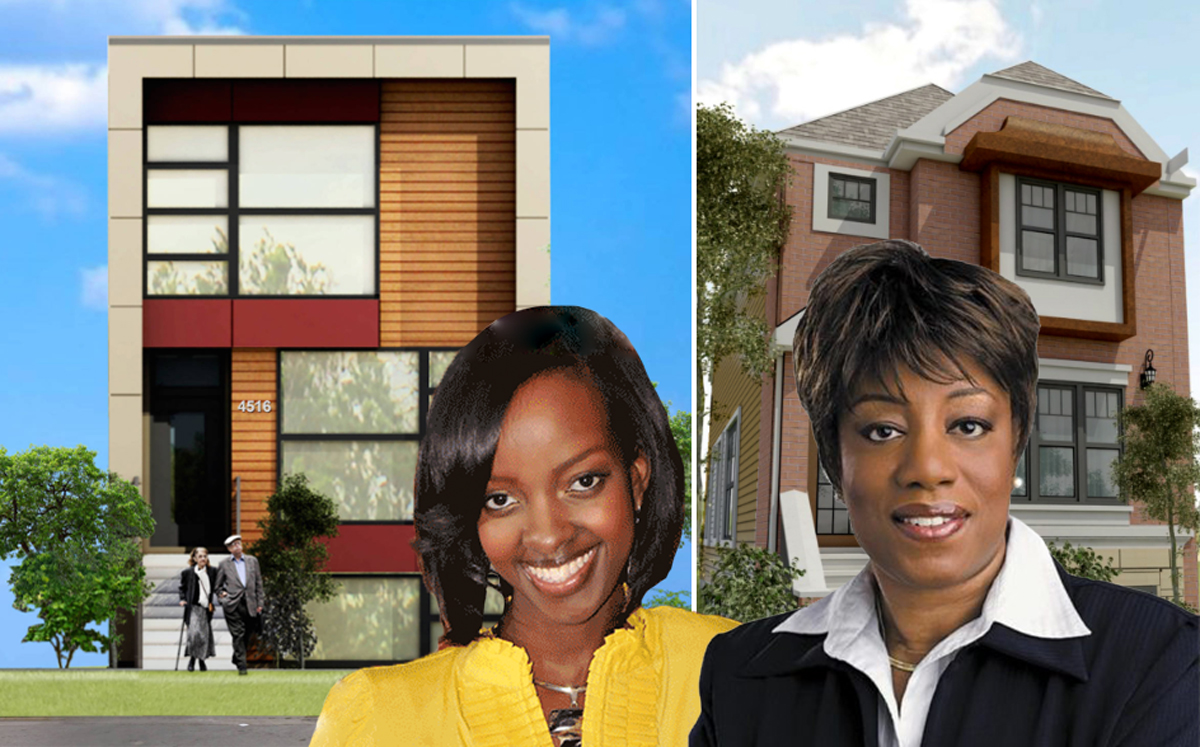 Developers are bringing market-rate housing to a blighted slice of Bronzeville through a city incentive program that's now moving into its second phase.
The City Council has teed up three city-owned properties in the South Side neighborhood for sale through the Parade of Homes program, which offers discounted land to a select group of single-family homebuilders in the 3rd Ward.
Out of 42 vacant properties set aside when the program launched in 2016, four homes have already been completed, including a five-bedroom house built by R&D Builders that hit the market last month for $644,000 at 4510 South Prairie Ave.
The house was under contract with a buyer just two weeks after it was listed, according to Sheila Dantzler, who manages R&D Builders with her husband.
The quick sale was "a sign that people really are willing to pay market rate" to live in Bronzeville, which is home to more vacant lots than almost any other neighborhood in the city, Dantzler said.
The 3,700-square-foot house was one of four neighboring homes completed earlier this year in the 4500 block of South Prairie Avenue, presented as a model to be replicated throughout the ward.
The city is preparing to sell its next round of vacant lots, all on Calumet Avenue between 43rd and 45th streets, for between $23,000 and $43,000 — half of their appraised value, according to city officials.
A few more clusters of high-end homes on neighboring blocks could "change the face of the neighborhood," Dantzler said.
"We're going to consume these vacant lots and bring more families to the area, so it looks more like other fully-developed neighborhoods, like the West Loop or South Loop," said Dantzler, who is also a broker with Related Realty. "New homes coming in means more retail, more commercial development."
Alderman Pat Dowell conceived of Parade of Homes about 10 years ago, but it stalled after the financial crisis. The city came back in 2016 with requests for proposals for the 42 properties, and all five companies who applied were accepted.
Under the program, each of the five builders will focus on one site at a time, buying each city-owned vacant lot after they've closed a sale on their previous project.
One of the developers, Craig Yarbrough, listed a 4,000-square-foot, four-bedroom home for $659,000 at 4518 South Prairie Avenue as part of the program's inaugural round, he said.
Yarbrough said he hopes the new construction can pull buyers' attention west of King Drive, an area where huge clusters of vacant lots still surround the site of the demolished Robert Taylor Homes.
"It's five minutes away from McCormick Place and Hyde Park, and a commuter can hop on the Green Line and get right downtown," said Yarbrough, owner of Click Development. "So I'm hoping we can spur some more opportunity in that part of Bronzeville."