Realty tip: "Using drones inside can be magical"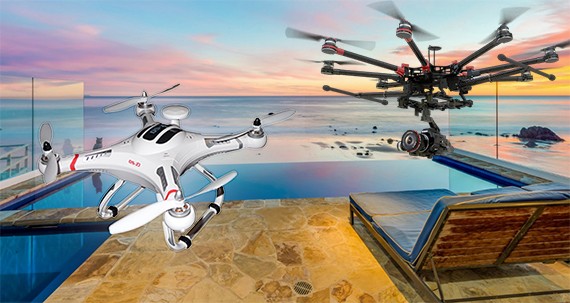 Los Angeles realtors are going to great heights to sell homes these days — literally.
The latest trend in luxury real estate is using drones indoors to capture bird's eye views of extravagant and cavernous rooms, creating extra pizzazz for property marketing videos at a relatively low cost.
"If you've got the space, using drones inside can be magical," Bret Parsons, a Coldwell Banker realtor, told the L.A. Times.
"One client said that they never realized how beautiful their home was until it was shot by a drone. And now they joke that they don't want to sell it."
Real estate agencies are now working with drone operators and videographers to curate these promotional airborne videos. Parsons, for instance, hired the Chatsworth-based Luxury View Media to shoot a $5 million Bel-Air house.
Drone operator Adrian Zaw and his realtor partner Tim Durkovic went to even greater heights to up the production value. They hired actors to appear happy inside a $3.9 million Los Feliz home as a drone flies by overhead. The shot? The drone flies between two men in the kitchen, past a champagne-wielding woman and then two men laughing on a patio.
But it's not always fun and games.
"Inside a big expensive house, flying past artwork, drones can cut things up real quick," Kanin Howell, founder of Los Angeles aerial cinematography company Drone 55, told the Times. "A drone will blow a freakin' pillow off a couch."
Small objects like vases and photo frames are taken down, and pets are strongly advised to vacate the premise during a shoot. [LAT] — Cathaleen Chen