Grindr expands its lease at the Pacific Design Center by 30%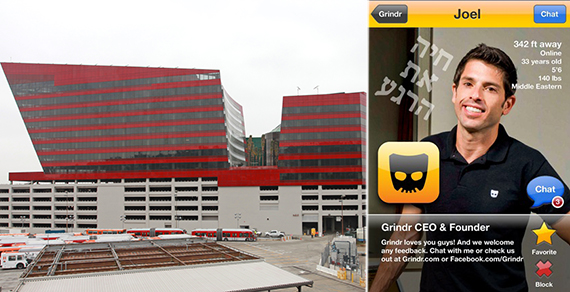 Netflix and chill, this is not. It looks like this hookup is leading to commitment.
Gay meetup app Grindr is expanding its lease at the RedBuilding of the Pacific Design Center in West Hollywood. The company will be adding an additional 8,000 square feet to their current 18,000-square-foot headquarters and will occupy the entire 14th floor in a long-term lease for 26,000 square feet.
While terms of the lease remain undisclosed, the asking rate was $4.75 per square foot per month modified gross, according to someone familiar with the transaction. That would amount to roughly $1.5 million a year for Grindr's home base, if the firm did not negotiate a discount.
Grindr's expansion at PDC comes barely six months after it moved from its old office at 6725 West Sunset Boulevard. The Pacific Design Center, developed by Charles Cohen and designed by Argentinean architect Cesar Pelli, is a 1.2 million-square-foot campus with three separate office complexes, all in primary colors. Completed in 2013, the RedBuilding was the last of the three to rise.
In addition to Grindr, New York-based marketing firm Digital Brand Architects is also expanding its lease on the 9th floor of the east tower from 9,000 square feet to 13,200 square feet. Marc Horowitz of Cohen Brothers Realty, as well as a team from JLL, represented Cohen in the transactions.
Founded in 2009, Grindr calls itself "the world's largest gay social network." The company is valued at $155 million as of early 2016, following its sale to Chinese gaming firm Beijing Kunlun Tech Company. Its geosocial features allow users near one another to connect.
"[Grindr] is broadening their services," Ryan Harding of Newmark Knight Grubb Frank, who represented Grindr in the lease deal, told The Real Deal. "They're adding staff across the board."
Although it's unclear how the app will be growing, a recent blog post announced that Grindr is pursuing its "first short-form video series" and will cast active Grindr users in a "unique reality experiment."
Elsewhere in the RedBuilding, fellow creative tenants include talent agency Abrams Artists Agency; lifestyle media company Clique Media; high-end retailer AllSaints USA; and Whalerock Industries, which runs Kim Kardashian's app.
Grindr could not be reached for comment.