Colony Capital CEO looks for $22M return on Santa Monica pad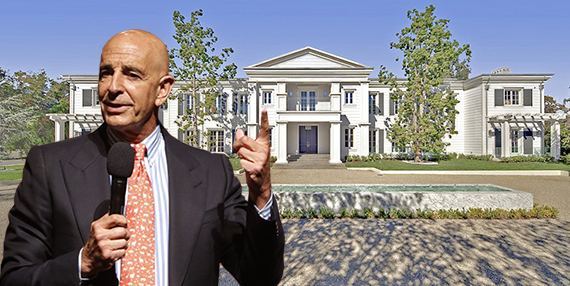 Donald Trump's newest economic advisor sure knows how to shoot for the stars when it comes to return on his own investments.
Thomas Barrack Jr., the CEO of Colony Capital and an appointee to Trump's economics policy team, has listed his sprawling, neoclassical mansion in Santa Monica for $46.5 million — nearly twice the $24.5 million he paid just two years ago.
Sitting on 1.4 acres of manicured land and overlooking the Riviera Country Club, the 23,515-square-foot mansion has seven bedrooms and 13 bathrooms. It features a double height foyer, a formal dining room that seats two dozen guests, a library and a chef's kitchen. The master bedroom spans 2,500 square feet, the size of an average American home, Variety said.
Other features include a mirrored gym, a spa, a wine cellar, a screening room and an indoor basketball court. Outside there is a swimming pool, a fire pit and a "citrus grove walkway."
Barrack made a name for himself as a gutsy investor, famously saving Michael Jackson's Neverland Ranch from foreclosure in 2008 by purchasing the note on the property. [Variety] — Cathaleen Chen