Inglewood accused of backroom dealing over LA Clippers new arena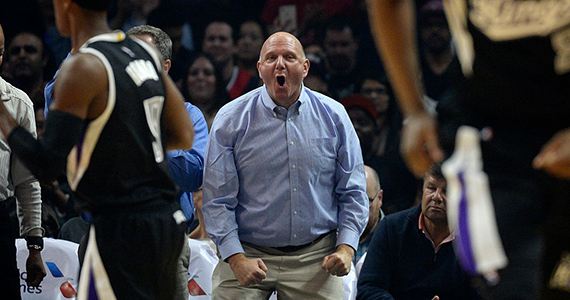 Inglewood's City Council approved a negotiation agreement with the Los Angeles Clippers on Thursday to explore building an NBA arena.
Immediately following the announcement of the decision, the Forum issued a statement calling the city's unanimous approval vote the result of "backroom dealing."
"Many consider our work to revitalize the Forum to be the catalyst for Inglewood's recent business success," the statement said. "Now, it appears the city of Inglewood has been doing a lot of backroom dealing. There may be a path forward, but not without a real public process that is done in the full light of day with the participation of Inglewood's residents and many other stakeholders."
The agreement would give the basketball team a three-year window to secure funding for an arena, including a nonrefundable $1.5 million deposit. During that time, the Clippers are required to complete an environmental review, the Los Angeles Times reported.
The Clippers, whose lease with the Staples Center expires in June 2024, would have the right to negotiate with other cities during the agreement's three year-window, but Inglewood would not be able to sell the land to another party, according to the Los Angeles Business Journal.
The site is directly south of Rams owner Stan Kroenke's $2.6 billion NFL stadium, currently under construction, for the Los Angeles Rams and Los Angeles Chargers. It's scheduled to open in 2020.
Kroenke's stadium is the centerpiece of Hollywood Park, a 298-acre sports and entertainment district that's under construction.
The city and its successor agency own about 22 acres on the proposed Clippers site. Private entities own the remaining parcels. It is bordered by Century Boulevard to the north, Prairie Avenue to the west, 104th Street to the south and Yukon Avenue to the east.
It's currently home to a variety of businesses that include a motel and auto detailing shop south of Century Boulevard. The agreement mentions the possibility of Inglewood using eminent domain to acquire private property for the project, according to the L.A. Times.
Inglewood negotiated an agreement to build an 18,000- to 20,000-seat stadium with Bellevue, Wash.-based Murphy's Bowl, an entity presumably controlled by Clippers owner Steve Ballmer, according to the Los Angeles Business Journal. The complex would include team offices, parking and a practice facility. [LAT] — Subrina Hudson