New development shakeup: The Agency is taking over sales at Metropolis from Douglas Elliman, sources say
Mauricio Umanksy-led brokerage will be selling all phases of DTLA condo project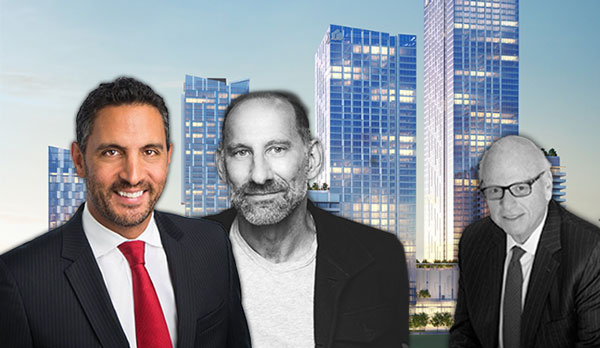 Rendering of Metropolis, From left: Mauricio Umansky, Billy Rose, Howard Lorber (Credit: Greenland USA, the Agency, Douglas Elliman)
Douglas Elliman entered the Los Angeles market with a bang, nabbing sales at Greenland USA's $1 billion Metropolis development in Downtown Los Angeles in 2013. Now, only months after the brokerage acquired L.A. firm Teles properties, it is stepping away from the project, The Real Deal has learned. 
Luxury brokerage the Agency, headed by Mauricio Umansky and Billy Rose, is taking over sales at the mega-development, said sources with knowledge of the deal. The takeover of the 1,500-condo project, which is spread across three towers at 889 Francisco Street, will be announced in coming weeks, the sources said. 
The reason for the switcheroo is unknown. Representatives of the Agency declined to comment. Greenland USA, the U.S. subsidiary of the state-owned Chinese company, could not be reached.
When asked to comment on the change, Elliman representatives expressed pride in working on the development in early stages.
"It has been a privilege for us to represent Metropolis where our talented team of new development specialists sold over two-thirds of the residences in tower one," Susan de França, CEO of Douglas Elliman's new development division, said in a texted statement.

"We are enormously proud to have been a driving force behind Metropolis, for which we created a higher standard of vertical living in Los Angeles," said Cory Weiss, who recently became the president of new development in the Western Region for Douglas Elliman.
De França recently told The Real  Deal the brokerage planned to more than double the size of its new development division in California and expand to San Francisco. Weiss, who spent 18 months working on new development for Elliman in New York and Florida, was tapped to lead the expansion. 
Even for a brokerage with New York skyscraper chops, the competition in the new development sphere is fierce as L.A. warms to high-rise living. Sources in the industry predict a shakeup within new development divisions is only beginning.
Partners Trust, which was recently acquired by Pacific Union, launched a new development division last year. Compass also has a new development division, headed by Hana Cha, who the venture-backed brokerage poached from a similar role at the Agency.