From Podshare to the Proper: two ends of the long-term-stay spectrum
Christopher Martin moderated a ULI hospitality panel exploring unique trends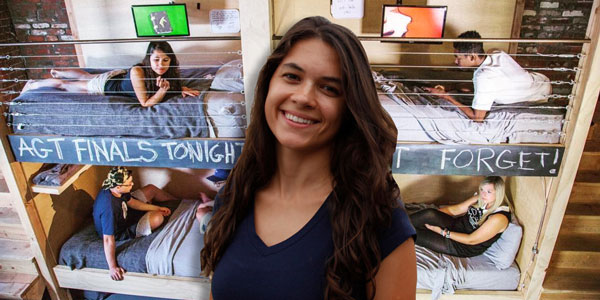 Affordability isn't exactly L.A.'s strong suit — but one hospitality startup offers a short-term option.
For $50 a night, "Podestrians" can live in so-called pods (upgraded bunk beds that have built-in televisions with Netflix and Hulu hooked up) that span nearly 50 square foot of space inside of large common areas. That equates to $1 a square foot.
Elvina Beck, creator of a unique co-living enterprise known as Podshare, sat down with AC Martin's Christopher Martin (who had a major hand in designing the behemoth Wilshire Grand) and Brian De Lowe, president and co-founder of Proper Hospitality, at the Urban Land Institute's fall meeting at the Los Angeles Convention Center on Tuesday to discuss their two very different paths towards long-term-stay hospitality.
In a panel called "Hospitality Trends – The Colliding Worlds of Housing and Hotels," De Lowe presented his recent project, the Hollywood Proper, a luxury 22-story tower offering long-term-stay furnished or unfurnished apartments with hotel amenities. A furnished 1,000-square-foot one-bedroom that fits up to three guests clocks in at about $500 night, according to the website.
His photo slideshow of the sleek, contemporary project was soon sharply contrasted by the photos in Beck's presentation, which depicted a scene more resemblant of a teenage sleepaway camp than an L.A. hotel. In one photo on the Podshare instagram, for example, roughly 40 young people huddle in the cramped space between the "pod" beds, listening to a long-haired musician play acoustic guitar.
Podshare is now working on its fifth L.A. location in Westwood. Its other locations are in Venice, Downtown's Arts District, Los Feliz and Hollywood. The membership-based model allows — and encourages — customers to use any of the locations.
The so-called "social network with an address" has attracted a cult-like following, as evidenced by the 16 people who have tattood its logo on their own skin, which Podshare promotes on its website.
"We are taking pods and distributing them across the city of Los Angeles," Beck told the audience. "We're [connecting] the Eastside and Westside of L.A. at one affordable rate where people can live anywhere," Beck said. The growing company even transformed a former medical marijuana facility into a Podshare — something the "city was very fond of," Beck said.
The company seems to be looking to expand — and is soliciting landlords on its website. "Do you own commercial space with at least 12 ft ceilings in Los Angeles?," an ad reads. "Regardless of the square footage, we may be interested in installing murphy pods!"
Beck, who had a stint with acting, said the system is perfect for those who audition in Hollywood early morning but live on the Westside. Martin, who served the moderator role between the two contrasting founders, quipped "Actors will go to [Beck] when auditioning," but when they land the job, "they'll go to Brian."
"We're feeding the system, one way or another," Martin joked.
The audience was quick to point out potential downfalls of co-living, which panelists compared to hesitations about Airbnb and Uber when they first came onto the scene. (Ironically, both Podshare and Hollywood Proper are listed on Airbnb.)
A few individuals in the audience questioned the safety of living in bunkbeds with strangers and what sort of vetting process employees take for new long-term-stay guests. Beck responded by saying Podshare "asks a few questions" to potential newcomers, but said they don't have time to run individual background checks on each one.
She pointed to the floor plans — pods stacked against the wall with open space in between, offering no privacy — as a safety net, arguing "this isn't a good place to commit any sort of crime."