These were the 5 biggest resi deals in LA in 2019
Three sales hit $100 million mark
UPDATED January 17, 3:42 p.m.  
In the first few months of 2019, no one was biting at historic nine-figure asking prices for Los Angeles's most luxurious homes.
But by the year's end, three homes had sold for at least $100 million, with a fourth fetching $94 million.
Fox Corp. chief executive Lachlan Murdoch capped off 2019 by buying the Chartwell mansion of former Univision chairman Jerrold Perenchio for $150 million, the biggest residential purchase ever in Los Angeles County. The Wall Street Journal reported Murdoch was the buyer, which a representative at Hilton & Hyland real estate brokerage later confirmed.
The majority of the top residential sales in 2019 were in the platinum triangle, the leafy area comprised of Beverly Hills, Holmby Hills and Bel Air. Market observers say these homes are often distinctive architecturally – like a historic piece of art – and allow access to greater Los Angeles by being near Sunset Boulevard.
"These higher priced estates tend to be large swaths of relatively flat land, closer to Sunset Boulevard, than up in the hills," said Paul Habibi, a finance and real estate professor at UCLA.
Here were the top five residential sales of 2019, based on an analysis of public records, news clippings, and market reports.
875 Nimes Road | $150 million | Bel Air
Eight – yes, eight – agents are listed as behind the record Chartwell sale, with the buying agent not yet identified.
After Perenchio died in 2017, his estate put the 10-acre property on the market for $350 million, and then cut the price down to $195 million this June. The property includes a 25,000-square-foot main house with 11 bedrooms, 18 bathrooms, along with a 75-foot swimming pool, guest house, tennis court, and covered parking for 40 cars.
Murdoch is the son of Rupert Murdoch and is taking over leadership roles for his father at both Fox and News Corp., who he is co-chairman. Two years earlier, Lachlan Murdoch paid $29 million for an equestrian estate in Aspen.
The eight sales agents are Drew Fenton, Jeff Hyland and Gary Gold of Hilton & Hyland; Joyce Rey, Jade Mills and Alexandra Allen of Coldwell Banker; and Drew Gitlin and Susan Gitlin of Berkshire Hathaway HomeServices.
Fenton was the lone agent representing Murdoch in the purchase, according to the Multiple Listing Service.
594 South Mapleton Drive | $119.8 million | Westwood
Formula one heiress Petra Ecclestone's sale of a manor formerly owned by Aaron Spelling was at the time the biggest sale in Los Angeles County history. Ecclestone sold the home in July. The listing agents were Jade Mills of Coldwell Banker, Kurt Rappaport of Westside Estate Agency and David Parnes and James Harris of the Agency.
The unidentified buyer is registered with the state of California as 594 Mapleton LLC, with West Hollywood-based attorney Dennis Roach listed as the service agent. Hilton and Hyland's Jeff Hyland represented the buyer.
Ecclestone, the daughter of billionaire Bernie Ecclestone, sold the manor after three years on the market and three price cuts, originally listing the estate for $200 million. She bought the property for $85 million in 2011 from Aaron Spelling's wife Candy Spelling. The property includes 123 rooms – including 14 bedrooms – a tennis court, swimming pool, spa and koi ponds.
Pacific Coast Highway | $100 million | Malibu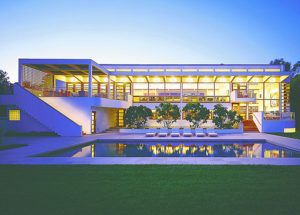 Jan Koum, co-founder of the messaging service WhatsApp, purchased the 14,000 square foot beachfront property from NBC Universal executive Ron Meyer in August.
Meyer first shopped the property in the Paradise Cove section of Malibu for $125 million in July 2018, and then took the property to the Multiple Listings Service in January at the same price. Kurt Rappaport of Westside Estate Agency served as listing agent and also represented the buyer.
The property includes five bedrooms and six bathrooms, private beach access, pool, tennis courts, spa and two guest houses.
924 Bel Air Road | $94 million | Bel Air
An unidentified buyer registered as WinterSun Properties LLC purchased a mansion built by handbag mogul Bruce Makowsky in October – two years after Makowsky listed the property for $250 million.
The abode, which Makowsky dubbed "Billionaire" is a playpen for the rich with helipad, bowling alley, massage studio, 130 pre-selected works of art, two wine cellars, an 85-foot swimming pool, and $30 million worth of exotic cars.
The husband-wife team of Branden and Rayni Williams of Hilton & Hyland plus Shawn Elliott of NestSeekers International represented Makowsky in the sale. Ben Bacal, who announced his new brokerage firm Revel Real Estate days before the deal went down, represented the buyer.
822 Sarbonne Road | $75 million | Bel Air
Speculative mansion builder Ardie Tavangarian sold his 25,000 square foot home to an anonymous China-based buyer registered as Sarbonne 6 LLC.
Tavangarian, founder of architecture and construction firm Arya Group, built a mansion that includes a movie theater, art studio, and car elevator. The home was first listed for $88 million in November 2018, with Jeff Hyland and Branden Williams serving as sales agents. Mauricio Umansky and Jon Grauman of The Agency represented the buyer.
Editor's Note: This article has been amended to correct the closing price on 822 Sarbonne Road.