Construction begins on Broward townhouse community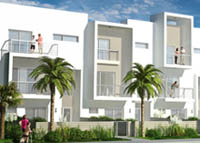 Construction of a luxury townhouse community in Pompano Beach started Tuesday.
Cavache Properties announced the construction of the 21 townhomes called 14th & Ocean.
Fort Lauderdale-based Landmark Bank N.A. provided a $6.7 million construction loan for the project. The estimated sell-out value is $12.5 million, according to a news release. The general contractor for 14th & Ocean is Cambridge Construction Corporation, and the architect is Adache Groups Architects – both based in Fort Lauderdale.
Developer Adam Adache said in a statement that more than 50 percent of the units have already been sold. The resort-style homes will be located across the street from the beach, north of Atlantic Boulevard and the Pompano Beach redevelopment corridor and near the newly redesigned Greg Norman Golf Course, and a racetrack.
The former BankUnited building is set to be demolished soon as the site work continues to progress. — Kristina Puga