Experts: Will U.S. recession spark next SoFla real estate downturn?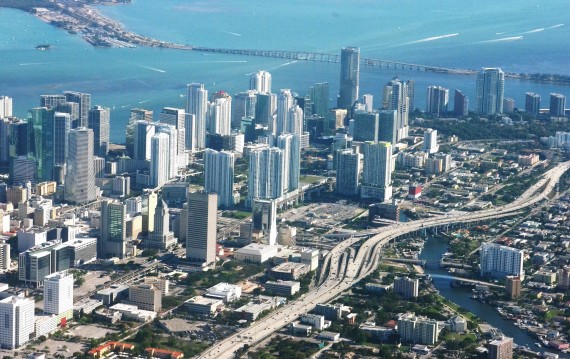 South Florida real estate prices have rebounded sharply over the last four years, making many in the industry forget the carnage that preceded.
At some point another downturn will come, though it's unlikely to be as severe as that of 2007 to 2011. So what will cause the next real estate slump here?
Some say it may be a national recession, perhaps in 2017.
To some extent, forecasting the immediate cause of a real estate decline is a fool's errand, says Mark Vitner, an economist who follows South Florida for Wells Fargo Bank. "Usually what brings a correction isn't what you thought," he told The Real Deal. "Now everyone worries that foreign capital flowing into South Florida will dry up."
That probably won't be the cause, he said. "What concerns me most is so much real estate investment now seems to be hunting for yield." Investors want properties that can provide rental income in an environment where short-term interest rates are barely above zero.
"What happens when rates move higher?" Vitner asked. "That's typically what brings us to the end of a business cycle. The Fed raises rates too much" in a policy miscalculation. Of course, we're a long way from there, given that the central bank may not even raise rates this year.
But, "the Fed doesn't have any experience moving us from zero, so chances for a mistake are relatively high," Vitner said. The Fed has kept its federal funds rate target at zero to 0.25 percent since December 2008.
The cycle's peak will probably come between the end of 2016 and the middle of 2019, Vitner said. That would represent a perfect storm coinciding with the delivery of many of South Florida's new real estate projects in 2017-18, he noted.
Jack McCabe, CEO of McCabe Research & Consulting in Deerfield Beach, thinks 2017 will be the year of reckoning. He notes that national recessions historically have occurred every seven to 10 years, and it's now been almost six years since the Great Recession ended.
"Stupid money is chasing real estate deals" in South Florida, he said. The problems in economies ranging from Brazil, to Venezuela, to Russia, to China, will take away the wealth that investors in those countries have put to work in South Florida real estate, McCabe said. "Investment capital will leave the U.S. and go to places with higher yields."
The ramifications won't be pretty, especially in the overbuilt condo markets along the coast, he said. "Just like last decade we will see who the true buyers are. I think we will see walkaways again."
Yet one of the main differences this cycle is that there is "a lot more equity in the market today, but less debt," said Anthony Graziano, senior managing director of Integra Realty Resources, who moderated a real estate panel at the Ritz-Carlton Residences Miami Beach on Wednesday.
Meanwhile, Andrea Heuson, a professor of finance at the University of Miami, worries about the fad factor — that "everyone will want a condo in South Florida, driving prices up" to excessive levels. "People already are complaining that Asian investors have bought units that they aren't even renting," she said.
The situation reminds her of the plight of Tibetan mastiff dogs in China. They were highly prized in 2013, fetching up to $200,000. But now the animals are being abandoned. Heuson hopes South Florida condos don't ultimately suffer the same fate.