Hollywood set to tear down former homeless shelter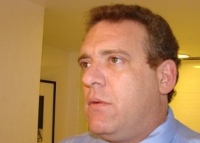 Demolition of a former shelter for homeless people on Federal Highway near downtown Hollywood will start Tuesday.
The city of Hollywood bought the 27-year-old building this year and plans to sell the half-acre site beneath it for redevelopment after the demolition work is done, which could take four weeks.
The seller, Sean Cononie, agreed to move his  operation outside of Hollywood in exchange for a $4.8 million payment from the city for the Homeless Voice building at 1203 Federal Highway and several other smaller properties in Hollywood.
In March, Cononie charted buses to transport 112 homeless people to a Haines City hotel in Central Florida that he bought for $2 million. Cononie will bring them back to Hollywood to watch the demolition work begin Tuesday at 10 a.m, according to the Sun Sentinel.
Vice Mayor Patricia Assef said the number of homeless people on Federal Highway has declined since Cononie moved his shelter out of town: "I definitely see a difference on Federal Highway. This will open a great opportunity for revitalization of the corridor. Anything's better than what was there before."
In October 2014, city commissioners unanimously agreed to buy out Cononie in order to remove his shelter for the homeless on Federal Highway just north of Young's Circle in downtown Hollywood. Mayor Peter Bober said the city forfeited "lots of money" in property tax revenue because the homeless population on North Federal Highway kept developers from acquiring and improving sites there. [Sun Sentinel] – Mike Seemuth