Proposed Tampa towers would be state's tallest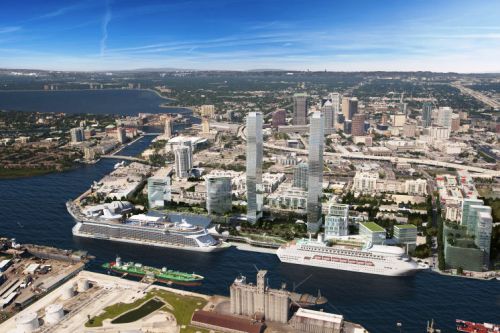 Port Tampa Bay is proposing a long-term development near downtown Tampa that would include two 75-story residential towers, which would rank among the tallest skyscrapers in the world.
"What people in this market are looking for is a view," said Luis Ajamil, president and CEO of Miami-based planning, engineering and architecture firm Bermello Ajamil & Partners.
The firm has designed a  $1.7 billion, 15-year master plan for Port Tampa Bay to develop 45 acres in a waterfront area called the Channel District. The elements of the planned development  include an enlarged cruise ship terminal, a marina, park space, offices, stores and hotels along with the two 75-story residential towers.
Ajamil told the Tampa Bay Times that each of the towers would have 450 units, six on each floor, with an average of 1,450 square feet per unit.
The Federal Aviation Administration probably would have to approve the construction of the 75-story towers. FAA approval is required for buildings taller than 200 feet or located near an airport.
The towers would be taller than the 64-story Four Seasons Hotel in Miami, now the tallest building in the state.
"Something special is happening in this area, and we felt this would be one way of achieving that," said Ajamil, whose firm designed the Four Seasons in Miami.
The Port Tampa Bay project would be the second major mixed-use development proposal in an area south of downtown Tampa. Jeff Vinik, owner of the Tampa Bay Lightning hockey team, last year proposed a $1 billion development in the area that would be the home of the medical school at the University of South Florida. [Tampa Bay Times] – Mike Seemuth