Windsor project in Vero Beach enters new phase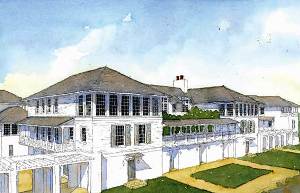 The developer of Windsor, a 425-acre community in Vero Beach, broke ground for a new phase with 12 residences in a trio of low-rise buildings.
The three connected three-story buildings on the western edge of the Windsor community will have central gardens and a reflecting pool and courtyard as their centerpiece. The new phase, called Windsor Park Residences, was designed by Merrill, Pastor & Colgan Architects.
Huryn Construction is building the Windsor Park Residences phase of the overall Windsor development, and Huryn is scheduled to finish in the fall of 2017.
Windsor, comprised of 350 home sites, is located on a barrier island between the Indian River and the Atlantic Ocean in Vero Beach.
Hilary and W. Galen Weston of Toronto, Canada, established Windsor in 1989. The island community in Vero Beach was designed by town planners Andrés Duany and Elizabeth Plater-Zyberk in the New Urbanism style of residential living.
Windsor's amenities include eight tennis courts, an 18-hole golf course designed by Robert Trent Jones Jr., a 400-yard long driving range and a 6,000-square-foot outdoor practice putting green.
Windsor also has an equestrian center with 18 stables and 14 paddocks, as well as jumping, dressage and lunging rings, plus a 400-yard long polo field for exhibition matches.—Mike Seemuth