MiamiCentral announces two new office tenants, taps H3 to lease retail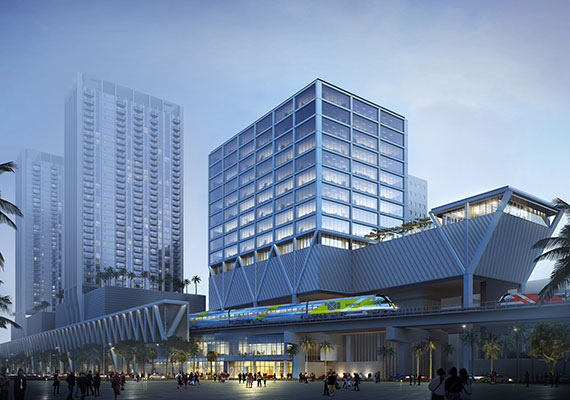 All Aboard Florida just brought on another pair of office tenants for its MiamiCentral mixed-use development in downtown Miami, and the company also announced it's hired H3 Hospitality to lease out the project's retail spaces.
Global media company Cisneros and general contractor Moss & Associates both reserved spaces at Two MiamiCentral, the project's 10-story office tower that will sit above MiamiCentral's train tracks. Cisneros agreed to a 30,000 square feet lease — the building's biggest yet — and 4,000 square feet for Moss. 
With these two new leases, the 190,000-square-foot tower has reached about 60 percent occupancy. Other recently announced tenants include accounting firm Ernst & Young, flex-workspace provider Regus and All Aboard Florida's parent company Florida East Coast Industries.
While the project has announced a handful of anchor tenants for its office space, All Aboard has also revealed a slew of restaurants and food hall tenants.
Azucar Ice Cream Company, Blackbrick Chinese, Doggi's, Miami Smokers, Romanicos Chocolate, Rosetta The Italian Bakery, and Toasted Bagelry & Deli have all signed agreements to open locations at the development, and chefs Brian and Michael Voltaggio are planning to open a new 10,000-square-foot restaurant concept there named Monger.
H3 Hospitality, headed by Seth Gadinsky and Justin Schultz, is handling leasing for the retail and restaurant spaces.
All Aboard broke ground on MiamiCentral in early 2015 and has since gone vertical on the 11-acre project. Outside of the commercial portions and its 800 residential units, MiamiCentral's main draw is the upcoming Brightline commuter service that will run between downtown Miami, Fort Lauderdale, West Palm Beach and Orlando.
Train service, and the development as a whole, is aiming toward a mid-year 2017 delivery date. — Sean Stewart-Muniz