Auto industry mogul spends $25M for Porsche Design PH with room for 11 cars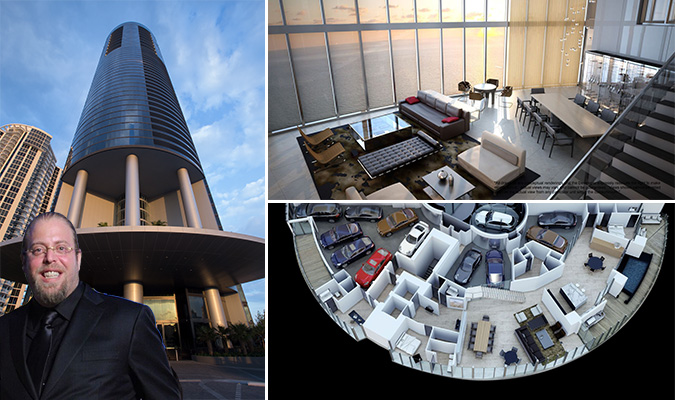 Developer Gil Dezer has sold the penthouse at his newly developed Porsche Design Tower for $25 million to an undisclosed ultra-wealthy buyer in the U.S. auto industry. 
The four-story penthouse, at 18555 Collins Avenue, traded at a 23 percent discount off its $32.5 million price tag, Dezer Development said on Friday. It starts on the 56th floor of the 60-story tower, which is centered around the "Dezervator" that takes residents up to units in their cars. The deal comes about two weeks after Dezer hosted a blowout party with a fireworks display and a performance by Alicia Keys to celebrate the tower's opening.
Dan Goodstadt of Douglas Elliman told The Real Deal he represented the buyer of the 9,560-square-foot unit. It closed for $2,615 per square foot on Friday morning, Goodstadt said. Dezer, who was looking to buy a yacht, met the buyer, who was selling his yacht, through Goodstadt. Dezer didn't end up buying the boat, but he did sell one of the two tower suites, both priced at $32.5 million.
"I was the man in the middle of two billionaires and my job was to make sure both parties were happy," Goodstadt said.
The deal has not yet cleared records. The buyer had already purchased a smaller unit in the building when he "fell in love" with the penthouse and plans to list the smaller one for sale when an interior designer completes it, Goodstadt said.
The penthouse includes the standard two two-car garages found in other Porshe Design units, plus a seven-car gallery that can also house a living room, bar and billiard table. It has five bedrooms, an office, family room, flex room, two private pools, two outdoor kitchens, two balconies, a terrace and a rooftop. In total, it has nearly 20,000 square feet.
Property records have revealed the identities of buyers at Porsche Design, including Mexican billionaire Carlos Peralta Quintero, Russian real estate investor Chingiz Askerov, Polish investor Dariusz Robert Wojdyga and the daughter of an alleged mobster. Records show 105 units have closed at the 132-unit building.
Dezer estimates the tower's sellout at $840 million. He said last year that he plans to launch another car-branded condo tower soon.
A previous version of this story incorrectly identified the listing agents. Dezer Platinum Realty was the listing brokerage.