Ohio developer scores $26M construction loan for Palm Beach Gardens rentals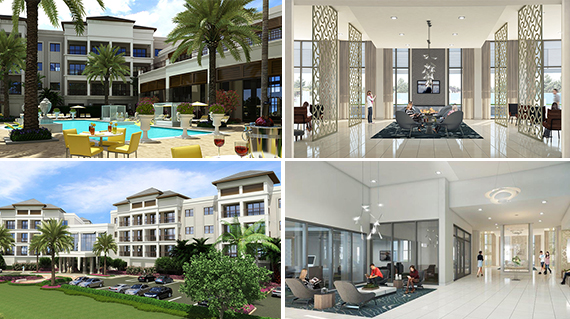 An Ohio-based developer just closed on a $26 million construction loan for a 124-unit apartment complex in Palm Beach Gardens.
Property records show Central Gardens LLC, an affiliate of Columbus, Ohio-based Schottenstein Real Estate Group, secured the financing from PNC Bank and filed a notice of commencement for the project on the corner of Central Boulevard and I-95.
Schottenstein, which is active in the Midwest and Southeastern U.S., focuses on residential and mixed-use developments. Central Gardens is slated to open during the summer of 2018 and will have units ranging from 844-square-foot, one-bedroom apartments to 1,628-square-foot, three-bedroom apartments, according to its website. It's being built on the last plot in the Central Gardens planned community development.
Amenities will include a fitness center, resort-style pool, business center and cafe, outdoor lounge, juice bar and more.
Previous sales information for the 7.5-acre site is not available online.
Multifamily construction loans generally range from 60 percent to 70 percent loan-to-cost ratio, which means that Central Gardens could cost between $37 million and $43 million.
Construction financing for multifamily development is still "relatively stable," Bilzin Sumberg partner Suzanne Amaducci said in The Real Deal's March issue, while condo projects have become increasingly difficult to finance. In October, the development arm of Florida Crystals closed on a $50 million construction loan for Atlantico at Palm Beach Gardens, a 350-plus unit apartment complex near Douglas Road. PNC is also the lender for that project. 
Schottenstein is also developing the 13,500-square-foot mansion at 520 Island Drive on Everglades Island in Palm Beach, which will be priced at about $40 million or $3,000 a square foot.