Target to open first Miami Beach store
33,000 sf store will open in 2019 at BLVD at Lenox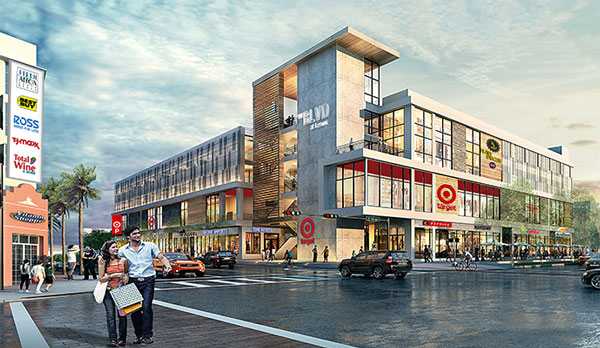 Miami Beach residents, rejoice. Target is coming to South Beach, which means residents will no longer have to leave the island to get their Target fix.
The retailer will open its first small-format store in South Florida at BLVD at Lenox, a four-story retail development being built by Michael Comras' MAC 1045 5th St. LLC, according to a press release. The 33,000-square-foot store is slated to open in the spring of 2019.
The 82,000-square-foot building, designed by Zyscovich Architects, will have three floors of retail, with parking on the third, fourth and rooftop levels. The project is a block away from Fifth and Alton, a retail complex anchored by Best Buy, Publix and Total Wine & More.
Target's small format stores are in major cities, dense suburban neighborhoods and near college campuses. The retailer plans to have more than 130 of the smaller stores by the end of 2019, according to the release.
The Miami Beach location will have men's, women's, kids' and baby apparel and accessories, swimwear and beach gear, home and decor, health, personal care and beauty products, and a grocery section with fresh produce, grab-and-go items, snacks and meals. It will also offer Target's pickup order service.
Comras said he's aiming to lease the remaining 34,000 square feet of retail space to restaurant and service-oriented retailers. Asking rents at the project range from rents range from $40 per square foot to $70 per square foot. Available spaces include nearly 28,000 square feet on the ground floor and 5,500 square feet on the third floor. It will have 227 parking spaces.
Comras, who led the investor group that sold an entire block of Lincoln Road to Spanish billionaire Amancio Ortega for $370 million in 2015, assembled the BLVD at Lenox site between 2014 and 2017 for a combined $8.48 million.
The Next Miami first reported Target's lease.