Fired basketball coach Rick Pitino wants $24M for Indian Creek estate
Pitino was fired from Louisville in October for alleged ties to a national recruiting scandal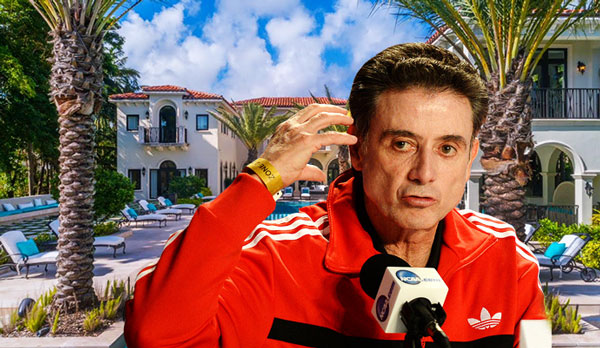 Ex-Louisville basketball coach Rick Pitino is listing his waterfront Indian Creek estate for just under $24 million, The Real Deal has learned.
Pitino, who was fired from the university in October for his alleged ties to a national college basketball recruiting scandal, is re-listing the property at 38 Indian Creek Drive for about $2 million less than when it was on the market last year, according to Realtor.com.
The expanded and renovated house now spans 12,000 square feet on a 1.25-acre lot, said listing agent Ralph Arias, of One Sotheby's International Realty. The Mediterranean transitional-style home features eight bedrooms, a gym, 10 full bathrooms, a four-car garage and a motor court.
Records show Pitino and his wife Joanne paid $5.4 million for the property in 1999.
The two-time National Championship coach is looking to downsize, Arias said. In November, he filed a lawsuit against Louisville's athletic association, asking for more than $35 million for an alleged breach of contract, the Courier-Journal reported.
Arias said the property is the least expensive home or lot available for sale in Indian Creek.
The exclusive island, which counts about 40 properties, is home to some of the 500 wealthiest people in the U.S., including activist investor Carl Icahn, car dealership mogul Norman Braman, and developers Jackie and Jeffrey Soffer. In July, Julio Iglesias listed an 8-acre assemblage of waterfront land for $150 million, or $18.75 million per acre.