South Florida firms sue each other over work on 41-story condo in St. Petersburg
Kast Construction claims that subcontractor Titus Construction Group did substandard work, and Titus claims it did uncompensated work for Kast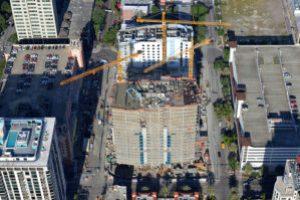 West Palm Beach-based Kast Construction is locked in litigation with a Fort Lauderdale-based subcontractor over work on a 41-story condo building in downtown St. Petersburg.
Nathan Pardue, president of Titus Construction Group, told the Tampa Bay Times that his firm did most of its drywall and framing work on 32 floors of the condo, called ONE St. Petersburg.
At that point, Kast informed the drywall and framing subcontractor that it could continue working on the construction project if it agreed in writing that its work on the first 32 floors had been substandard, and "we didn't agree," Pardue told the Times.
Pardue also told the newspaper that his firm is still working on the condo building and should finish there by late August.
Kast sued Titus, alleging multiple flaws in drywall and framing work by the subcontractor, among them framing that was "generally out of plumb, unlevel and not square."
Kast claimed in the suit that it incurred additional expenses because it hired other workers to finish work that Titus started.
Another defendant named in the suit is a surety company that was obligated to reimburse Kast if Titus failed to perform as required by its subcontract.
Titus filed its own suit, alleging that Kast owes the Fort Lauderdale-based subcontractor $3.64 million for work Kast ordered but was not required by its subcontract for the ONE St. Petersburg project.
Kast is the construction arm of Kolter Group, the developer of ONE St. Petersburg, which is nearing completion.
Robert Vail, president of Kolter Urban, told the Times that Kast and Titus appear to be "working to resolve their differences." [Tampa Bay Times] – Mike Seemuth