Report: Trump demanded $20M in 2006 to put his name on a Moscow tower
Pavel Fuks, a Ukrainian-Russian who wanted to develop the tower, told Bloomberg he met several times with Trump and his family starting in 2005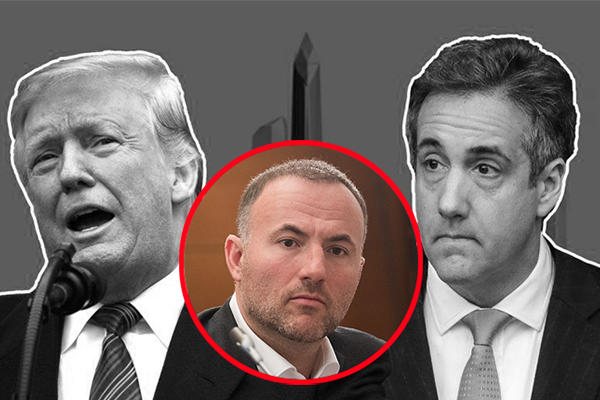 Donald Trump demanded $20 million in 2006 to put his name on a high-rise development in Moscow, according to Pavel Fuks, a Ukrainian-Russian who wanted to develop the tower.
Fuks, who made a fortune as a real estate developer, banker and oil trader, discussed Trump's efforts to launch the development of a Moscow tower bearing his name in an interview with Bloomberg News.
Trump made his first attempt at a Moscow development in 1987, when he visited the city to look at possible sites for a hotel, according to his book, "The Art of the Deal." That attempt in 1987 was unsuccessful, and so was another in 1996.
Fuks said he first met Trump in 2005 through an introduction by one of Trump's business partners, the late Tamir Sapir, a Soviet-born American who brought Russian investors into a New York hotel-condominium development called Trump Soho.
Fuks and Trump had several meetings in 2005, first in New York City at Trump Tower and later in Palm Beach at Trump's Mar-a-Lago resort. Fuks said Trump wanted to work on a high-rise in Moscow with a mix of hotel rooms, apartments and offices.
Trump's daughter Ivanka and son Donald Jr. traveled to Moscow in 2006 to meet with Fuks and discuss his interest in developing a Trump-branded tower in the Russian capital.
According to Fuks, he offered $10 million in installments for the naming rights, but Trump demanded $20 million, and their negotiations ended without a deal.
The Trump Organization apparently was considering a Moscow project with other developers, too. Donald Jr. told eTurboNews in a 2008 interview that he had visited Russia multiple times in the preceding 18 months to explore unspecified business opportunities.
In 2006, Donald Jr. and Ivanka Trump traveled to Russia to meet with Felix Sater, who worked on the Trump Soho project and negotiated to build a Trump-branded tower along the Moscow River.
Fuks told Bloomberg the site of his proposed Trump tower was on the other side of the Moscow River and that he was unacquainted with Sater.
Fuks said he last saw Trump in 2009 or 2010 but they did not discuss Fuks' proposed Moscow project.
In 2013, Trump visited the Russian capital for a Miss Universe pageant and discussed a Moscow high-rise project with Azerbaijani developer Aras Agalarov.
Trump continued to advance a Moscow tower development in 2015 and 2016, when he was running for president.
In a letter of intent delivered in 2015 to a Russian development firm, I.C. Expert Investment Co., Trump said he wanted a $4 million upfront fee and a share of the profits in exchange for putting his name on a Moscow tower.
Trump's former attorney, Michael Cohen, entered a guilty plea in November for telling the U.S. Senate that the negotiations to build a Trump-branded tower in Moscow ended in January 2016. The negotiations continued for months afterward. Cohen said he lied to support Trump's ongoing denials that he has Russian business ties.
Trump's repeated attempts to develop a tower in Moscow have become more significant since Special Prosecutor Robert Mueller began investigating possible links between Trump's presidential campaign and Russian interference the 2016 election. [Bloomberg] – Mike Seemuth