Key International starts building AC Hotel by Marriott near Fort Lauderdale beach
The Miami-based firm paid $9.56M in 2016 to acquire the Alhambra Street site for a 10-story, 171-room AC Hotel by Marriott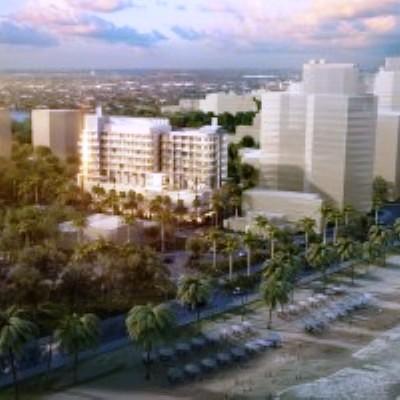 Miami-based Key International broke ground for construction of an AC Hotel by Marriott near the beach in Fort Lauderdale.
Key International is building the 10-story, 171-room hotel on a site at 3029 Alhambra Street on Fort Lauderdale's barrier island.
The Miami-based firm acquired the development site as a three-parcel assemblage for $9.56 million in July 2016.
Amenities at the AC Hotel by Marriott will include a cocktail lounge and a resort-style swimming pool with cabanas and dining service.
Key International acquired the half-acre development site about eight months after Fort Lauderdale city commissioners approved a site plan for the hotel development in November 2015.
South Carolina-based OTO Development had a contract to purchase the Alhambra Street site but decided against closing the deal.
Key International's portfolio of hotels and resorts includes the Eden Roc Resort in Miami Beach, a newly opened  Embassy Suites by Hilton in St. Augustine and the dual-brand Residence Inn and Springhill Suites in Clearwater. [Hospitality.net] – Mike Seemuth