Condo insurers exit market and hike rates after lawmakers fail to pass safety reform
Premiums have jumped 100% in some cases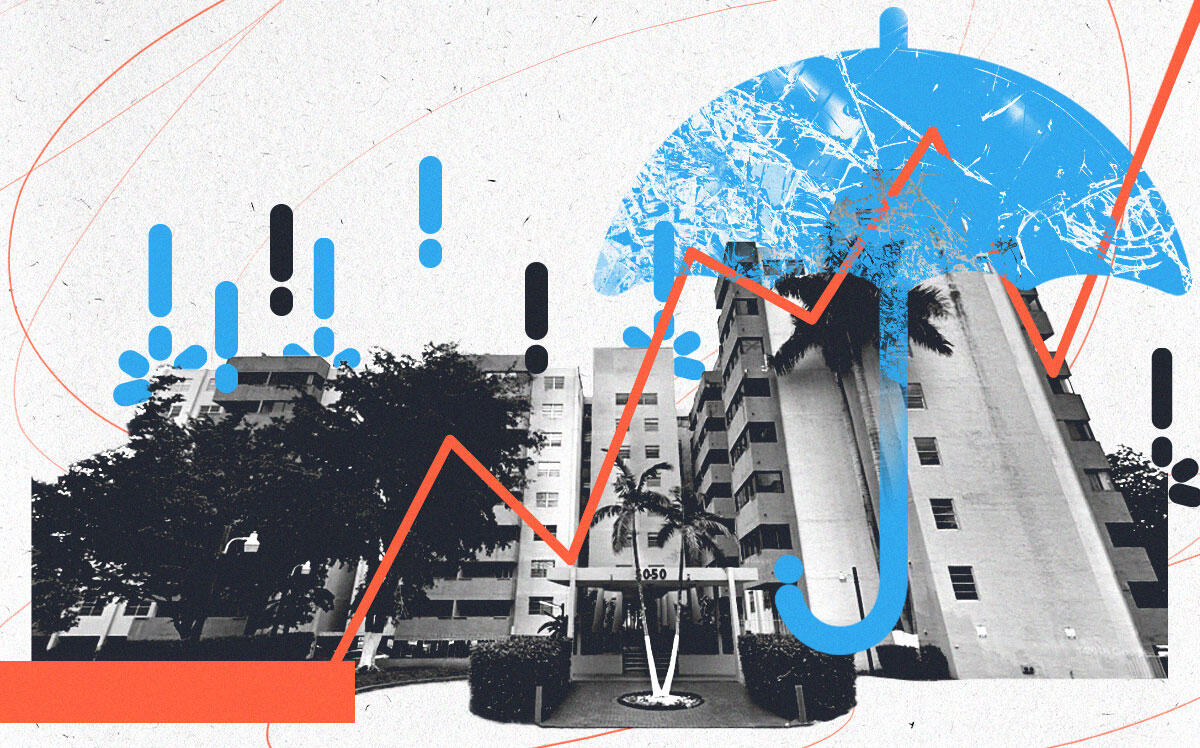 Insurers have become increasingly averse to issuing policies for aging condominiums in Florida following the state legislature's failure to pass safety reforms, despite the deadly Surfside collapse last year.
Insurers are either retreating from the high-risk market or jacking up rates, leaving associations in a bind, the Miami Herald reported. The issue has experts worried that older buildings with problems will become uninsurable altogether.
Associations on the market to renew policies are faced with average premium increases of 30 to 50 percent, and in some cases 100 percent or more, said Mark Friedlander, communications director for nonprofit Insurance Information Institute.
Associations now have to layer policies or turn to the lesser-regulated surplus market, which is for associations that can't get traditional underwriting. Robert Munchick, an insurance broker who sits on his Miami condo board, said the insurance marketplace is "horrible."
"Insurance companies are picking and choosing what buildings they want to insure … companies might not want to write on the ocean anymore," Munchick told the Herald.
Rising premiums and insurers exiting the market has long been an issue in Florida, but it became worse following the partial collapse of Champlain Towers South in June that killed 98 people, and has become a major problem after state lawmakers did not approve tighter safety standards in their session that ended in March.
A Florida Bar Surfside task force convened to come up with safety recommendations advised for policy changes on four fronts: for inspection and maintenance regulation, as well as for more transparency and mandatory condo financial reserves.
The Florida Legislature agreed to the principle, except on the proposal for associations to beef up reserves within a time period. But ultimately lawmakers did not adopt the bill.
"The failure to pass that Legislation sends a message of uncertainty, indecision," Bill Sklar, an adjunct professor at the University of Miami School of Law and chair of the task force, told the Herald. "That's what the marketplace doesn't like."
In Florida, there are more than 1.5 million condo units, with over 922,000 of them older than 30 years, according to state data Sklar collected for the task force. More than 60 percent are in parts of the state that have no maintenance or inspection standards.
On top of a tougher insurance market, owners and buyers are also dealing with tighter lending standards imposed following the collapse, as Fannie Mae and Freddie Mac now require information on buildings' structural safety.
Some associations have declined to answer questions, which inquire whether a regulating or inspection agency had asked for repairs because of unsafe conditions, The Real Deal reported in April. This is upending deals and having a particular impact on first-time homebuyers who already could not afford escalating single-family house prices and record rental rates in South Florida, prompting them to turn to condos.
Ultimately, the more stringent insurance and financing marketplace will trickle down to more headaches for owners of aging condos.
"Unit owners are going to be caught between a rock and a hard place when inspections show that substantial work needs to be done," Kyle Ulrich, president of the Florida Association of Insurance Agents, told the Herald. "They will be in a situation of either being uninsurable if they don't do the repairs, or do the repairs, and there will be a rather large assessment on every owner."
[Miami Herald] – Lidia Dinkova