Cayre says $300M buy will be first of many
<br>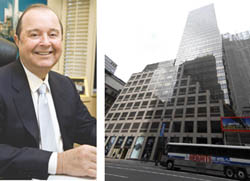 Joseph Cayre of Midtown Equities and
452 Fifth Avenue
(Photo source: PropertyShark)
Less than a day has passed since Midtown Equities and Israeli holding company IDB Group announced their acquisition of HSBC Bank USA's New York headquarters at 452 Fifth Avenue, between 39th and 40th streets, but Joseph Cayre, founder and principal of Midtown Equities, said that there will be more deals like it.
This was the first time Midtown Equities had teamed up with IDB, but
Cayre said the companies are now working on six or seven projects
together in New York City, where they will be "either buying buildings
outright or buying first mortgage notes from banks."
Cayre said at 452 Fifth Avenue he already has two parties seriously considering signing a lease on the top 18 floors that will be vacant come 2011. HSBC will continue to occupy the remaining 11 floors of the 29-story, 865,000-square-foot building, which went for $330 million, or $400 per square foot, for a 10-year term.
"I think it's a fabulous buy," Cayre said, noting that the deal had been in the works since April. "There haven't been any deals of this size lately in New York, and a lot of people are hesitant to buy, but we're quite bullish on New York City and we thought, 'this is the time to start buying.'"
Cayre said he was looking into purchasing HSBC's international headquarters buildings in London and Paris.