Norway's top diplomat buys $7M condo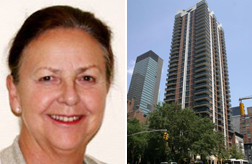 Grethe Knudsen and
255 East 49th Street
(building source: PropertyShark)
Just in time for the annual meeting of the United Nations' General Assembly, the top diplomat from Norway has purchased a plush new penthouse condo right in the nearby Turtle Bay neighborhood. 
On
Sept
. 10, Norwegian consul Grethe Knudsen closed on the four-bedroom unit, PH11, at
255 East 49th Street
, a 33-story tower called Sterling Plaza, according to city records published yesterday.  The apartment, which went into contract May 14, cost $7 million, city records show.
With four bathrooms and about 3,300 square feet, the corner unit also boasts two working fireplaces, marble baths and a circular stairwell to a private landscaped roof deck with outdoor kitchen, according to listing information from the Corcoran Group, which marketed it.
The sellers were Thomas and Paula McInerney of Westport, Conn., who run a private equity firm that they co-founded called Bluff Point Associates. The Westport company invests in information-service companies whose annual revenues total between $2 million and $20 million, according to its website, which lists Thomas as CEO and Paula as president.
According to the city's Department of Finance website, the couple bought the apartment in 1997 from Fred Wilpon, the owner of the Mets, who lived there, according to the Corcoran listing. In 1984, Wilpon's Sterling Equities, which he co-founded in 1972 with childhood friend Saul Katz, developed the building, which has about 170 units.
Ingrid Magnus, the assistant to Knudsen, whose office is in Norway's permanent mission at 825 Third Avenue, would not comment. Neither would Linda Stillwell, who handled the deal for Corcoran.
The McInerneys were traveling and unavailable for comment, according to a woman who answered the phone in their office.