SL Green elaborates on 11 Madison deal
REIT will look to "monetize" asset down the line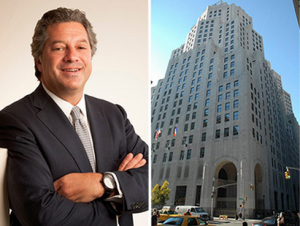 SL Green Realty's $2.6 billion purchase of 11 Madison Avenue dominated the real estate investment trust's second quarter earnings call Thursday, with CEO Marc Holliday describing the property as a "serious, serious office building" that will allow the company to capitalize on high market rents in Midtown South.
The REIT's acquisition of the 2.3 million-square-foot property from the Sapir Organization and CIM Group is expected to close in August and made waves as one of the largest real estate deals in the city's history.
The transaction increases SL Green's exposure to the "desirable Midtown South office market," Holliday said, describing the building's in-place embedded rents as "substantially" below market values and providing the REIT an opportunity to capitalize on Midtown South's high asking rents. But recent deals at the building — including Yelp, which is reportedly paying in the $80s per square foot, and Credit Suisse, whose space had an asking rent in the $70s per square foot — look to be above the average rent in Midtown South, which according to Cushman & Wakefield data was $66.86 per square foot in the second quarter.
The 11 Madison deal makes SL Green "the dominant owner in Midtown South" with over 3.5 million square feet of properties located adjacent to Madison Square Park, Holliday said. The REIT would continue to explore ways to monetize the asset down the line, he added.
"We tend not to hold on to assets in perpetuity," Holliday said. "I would look at this asset as on a three-to-five-year period and then we'll always readjust from there."
SL Green faced competition for the building from sovereign wealth funds, other REITs as well as a number of different investors, Holliday said,  and cited SL Green's prior relationships with Sapir and CIM — the REIT helped Sapir finance its acquisition of the property in 2004 — as a factor in clinching the deal.
The executive team also discussed the REIT's most recent trades. It originally marketed Tower 45, a 460,000-square-foot office tower at 120 West 45th Street, in 2013, but was "not satisfied with the offers we got at the time," president Andrew Mathias said. It eventually sold the property this month to Kamber Management for $365 million, as The Real Deal reported.
Mathias also spoke of this month's acquisition of 110 Greene Street in Soho and 187 Broadway in the Financial District. He noted 187 Broadway's "redevelopment" potential as a mixed-use building.
The REIT revised its office leasing guidance for 2015 to 2.2 million square feet from 1.8 million square feet, with Holliday citing a strong New York City economy that is "producing 4 million square feet in new demand annually."