Madison, Pizzarotti scale up 45 Broad Street resi tower
New plans call for 86-story condo building topping out at around 1,100 feet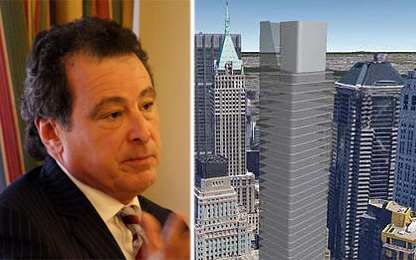 Madison Equities and Pizzarotti Group's plans for their $86 million development site in the Financial District just got significantly bigger.
Madison, led by Robert Gladstone, and Italy-based Pizzarotti have upsized their planned residential tower at 45 Broad Street, with the building now set to rise 86 stories and top out at around 1,100 feet – Giving It A Place among the supertall structures that promise to reshape the city's skyline.
CetraRuddy, the architectural firm behind One Madison and Walker Tower, is designing the project, and the developers expect to break ground in late October or November of this year with a targeted completion date in 2018, according to Curbed.
The 245-unit building will cater to "entry- and mid-level buyers," Pizzarotti CEO Rance McFarland told Curbed, with amenities including a swimming pool, gym, and lounge. Five floors at the property will be earmarked for commercial or retail use.
Madison and Pizzarotti entered contract on the vacant lot at 45 Broad Street last summer, as The Real Deal reported. The developers closed on the site in October for $86 million and originally planned a 65-story condo tower spanning up to 290,000 square feet on the property.
But the project is now expected to rise a further 21 stories than initially expected, with the additional height meaning 45 Broad Street is expected to Tower Over Financial District Neighbors 40 Wall Streetand One Wall Street. [Curbed] – Rey Mashayekhi