Black Spruce sells Bronx multifamily rental for $35M
Brooklyn investor Benzion Kohn is the buyer of 1511-1521 Sheridan Avenue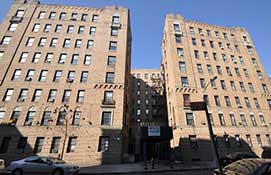 Less than a year after acquiring the property as part of a $58 million Bronx portfolio purchase, Black Spruce Management sold a multifamily building in the Claremont neighborhood for $34.7 million, netting a tidy $11 million profit.
The rent-regulated building at 1511-1521 Sheridan Avenue has 222 units and spans 202,418 Square Feet Between East 172nd Street and Mt. Eden Parkway. Brooklyn-based investor Benzion Kohn, through holding company 1521 Sheridan LLC, is the buyer, according to property records filed with the city.
Black Spruce, an investment firm led by Josh Gotlib, purchased the rental building from Normandy Real Estate for $24 million in April. It was part of a seven-building, nearly $58 million deal that also included 265-269 East 194th Street, 1967-1971 Marmion Avenue, 709-715 Fairmont Place, 2401 Davidson Avenue, 2391 Davidson Avenue and 51 Buchanan Place.
Midtown-based Black Spruce declined to comment on the sale.
Kohn's Bronx holdings include a 182-unit rental at 975 Walton Avenue, a 76-unit rental at 155 West 162nd Street, and an eight-unit rental at 933 Summit Avenue. His plans for the property are not yet clear.
Last April, Kohn sold a six-story, 52,900-square-foot residential building on Crooke Avenue in Prospect Park South in Brooklyn for $14.3 million to Jonas Equities.
Kohn was not immediately available for comment.