Residents at Trump Place buildings push for removal of GOP candidate's name
A petition and a letter about the plan have been circulated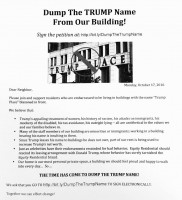 Some residents of the Trump Place complex are launching a campaign of their own.
A group of people who live at the Upper West Side complex have circulated a petition and a letter seeking to remove Trump's name from the buildings.
A resident at a Trump Place building at 220 Riverside Boulevard wrote a letter to the neighbors, asking for input on the plan, Brick Underground reported. The letter said that 57 homeowners and 24 renters have already signed a petition because they do not want to live "in a building with the Trump name attached to it." It also notes it is possible to remove the Trump name but still have Trump management at the building.
It's not the only place where Trump's name is making people uncomfortable. Residents at 160 Riverside Boulevard posted a petition to "dump the trump name" on Change.org six days ago, and it has collected 241 signatures so far.
Speaking with the pseudonym of "Karen," a resident at 220 Riverside told the website that many residents want the name removed, but some are concerned about the potential costs involved. "[We heard] it would cost between $200,000 and $1 million to replace the name, which would cut into the capital fund of the building," she said. "So does it make financial sense as a protest to remove a name when there could be other capital expenses that the building could incur, and how exactly would the building even assess that?"
Trump was once a prolific condo developer, but he has scaled back significantly in recent years. He no longer owns many of the buildings that have his name. The buildings at 140, 160 and 180 Riverside Boulevard, for example, are heavily branded with Trump's name but have actually been owned by Equity Residential since 2005.
StreetEasy's price index for 16 Trump-brand apartment buildings rose 5.4 percent to $1.674 million over the past year.  Many of Trump's buildings were built years ago now, and are considered at the "lower-end" of the luxury market.
Earlier this month, The Real Deal ran an interactive that looks at where Trump's money comes from. [BrickUnderground] — Miriam Hall