Newmark Knight Frank wins REBNY retail award for Alamo Drafthouse deal in FiDi
A deal to bring Life Time Fitness to Wall Street honored as 'most ingenious'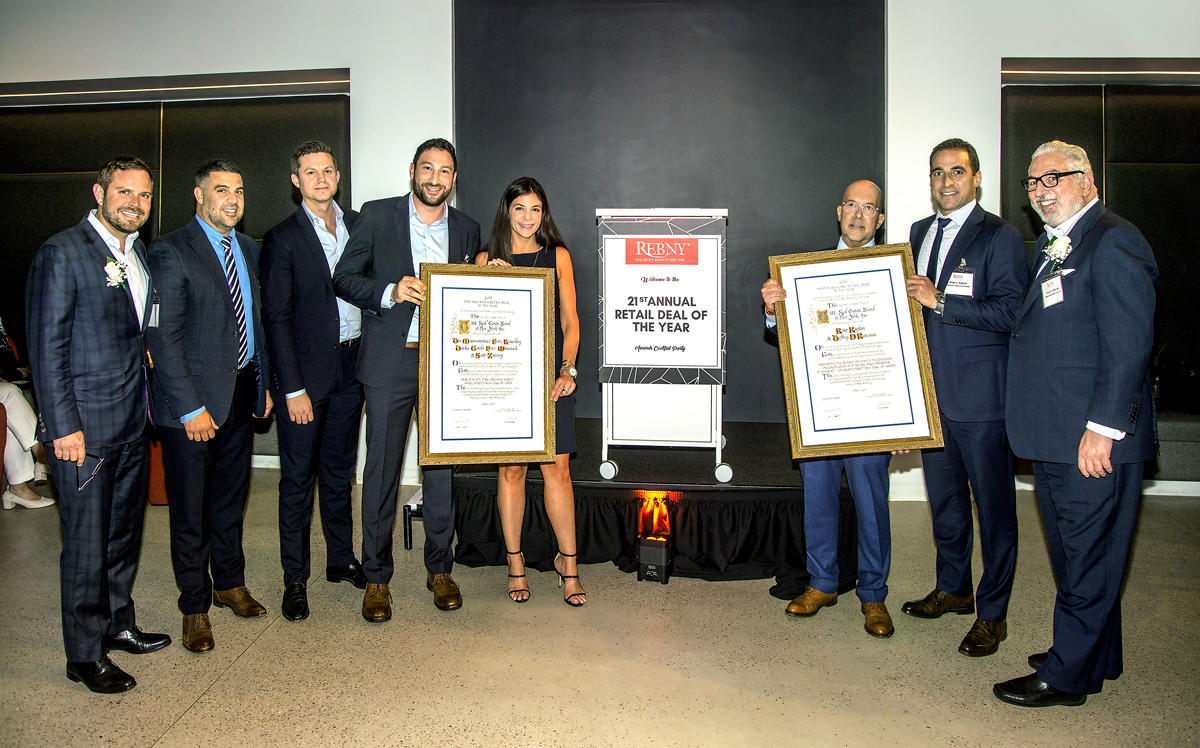 Newmark Knight Frank's Ross Kaplan and Jeffrey Roseman took home the Real Estate Board of New York's top retail deal award for securing a lease to bring the popular Alamo Drafthouse dine-in movie theatre to the Financial District.
Kaplan and Roseman won the Most Significant Retail Deal award for representing landlord Fosun in a deal to sign the cinema to 40,000 square feet at 28 Liberty Street. Alamo Drafthouse plans to open a 12-screen multiplex later this year, a keystone in Fosun's $200 million overhaul of the landmarked office tower it bought in 2013 for $750 million.
It was the fifth time Roseman has won the award, and the first time for Kaplan.
The prize for the Most Ingenious Retail Deal of the Year was shared by RFK's Peter Whitenack, Jackie Totolo and Scott Zinovoy, and the Dartmouth Company's Joe Mastromonaco and Fritz Kemerling, who brokered a deal for Life Time Fitness's 74,000 square-foot lease at Harry Macklowe's 1 Wall Street.
Delivering the award, REBNY Retail Committee co-chair Steven Soutendijk said the deal was a long process that required careful attention because the tenant, a luxury fitness chain founded in Minnesota, had limited experience in New York's retail market.
"This transaction required both physical creativity to overcome major space challenges, as well as financial imagination," he said.
Soutendijk also made a point, in his opening remarks, of addressing the City Council's last-minute decision on Monday night to cancel a public hearing on a series of rental-reform bills, originally scheduled for Tuesday. Many brokers had made plans to cancel business for the day so they could attend.
"The reason given for the cancellation was that renters and advocates are in Albany," he said. "Seems like a thin excuse because the schedule for rent regulations was set long before this hearing was scheduled."
"Nevertheless, this will not stop agents from showing up when the hearing does get rescheduled," he added. "I implore all of you to support our residential brothers and sisters."