Gabriel Gold plans 45-unit apartment complex in Koreatown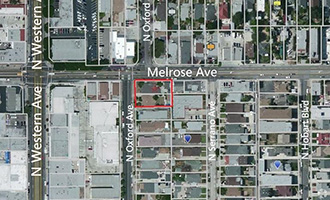 Koreatown may be getting yet another apartment complex.
Private property owner Gabriel Gold and his LLC, Savier Melrose, are planning a 45-unit mixed-use apartment structure at the southeast corner of Melrose Avenue and Oxford Avenue in Koreatown.
Saviers Melrose tapped L.A.-based Ketter Construction to build the 13,500-square-foot site, which is currently occupied by two single-family homes and an office, according to city planning filings. All three structures are vacant and would be demolished as part of the construction.
Saviers purchased the lot in October of last year for $2.1 million.
The proposed apartment building would be six stories tall. At least least four units would be reserved for "very low income" households. Units would include one-bedrooms, lofts and studios. About 3,800 square feet of ground floor space would be reserved for "small shops," Gold told The Real Deal, in order to create more foot traffic in the neighborhood.
"We're very excited about the growth of Koreatown and the increase of restaurants and stores around here," he added. "We love the feeling of this neighborhood."
Koreatown has been a recent hotbed of residential development. Another six-story apartment complex may be in the works at 926 South Kingsley Drive, TRD reported last month, and mega-landlord Jamison has also filed several plans with the city — among its project is a giant 228-unit condo tower at 3975-3987 West Ingraham Street just west of Koreatown.