SunCal reveals Arts District plans: gargantuan 1,736-unit project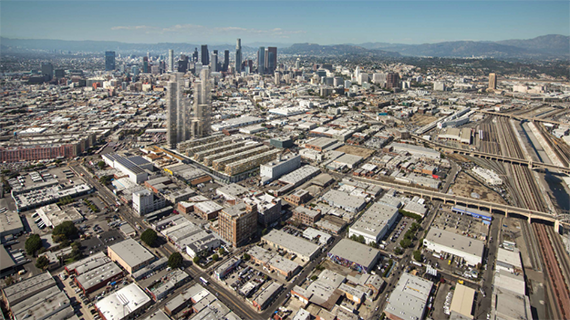 It's the Godzilla of Los Angeles developments — and it will loom especially large in the Arts District.
Developer SunCal has finally revealed its plan for the site it acquired last year on the corner of 6th and Alameda Streets. It calls for 1,736 units, two hotel towers, shops, creative offices and a school, as well as 23,000 additional square feet for art and two parks, the L.A. Times reported. The plan was informally introduced to city officials by the Orange County-based firm on Friday.
SunCal acquired the 14.5-acre site, which is currently occupied by two warehouses, for $130 million last March, and is partnering with a fund affiliated with Dell computers founder Michael Dell on the project, which is to be known as 6AM. It will be designed by architectural firm Herzog & de Mueron.
If it moves ahead, 6AM would add an entirely new community to a largely undeveloped enclave of the Arts District. This particular stretch of Alameda street is largely occupied by produce warehouses.
The plan is likely to draw opposition from some neighborhood activists, who may object to the height of the hotels, which are slated to top 58 stories, the Times speculated.
SunCal has yet to submit formal plans to the city, and would have to request a zoning change and General Plan amendment in order to proceed. SunCal is likely to be in a hurry, since the Neighborhood Integrity Initiative, if passed in in March, would impose a two-year moratorium on all developments that call for zoning changes.
"The height has not settled well with me, but as always, we'll wait to hear from the community," the district's Councilmember Jose Huizar told the Times. He added that the rest of the project looks "spectacular." [LAT] — Cathaleen Chen