Backers and opponents of Measure S spent $500K on campaigns in first 3 weeks of January alone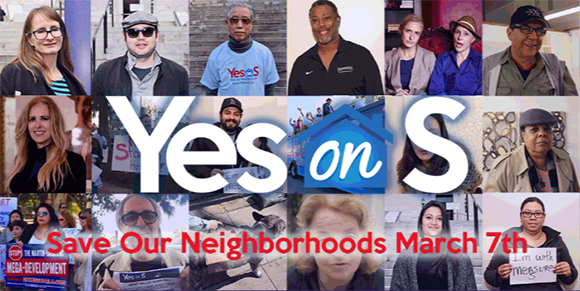 With the March election around the corner, Measure S is now more contentious than ever, drawing in a combined $700,000 worth of monetary and non-monetary campaign contributions from both sides in the first three weeks of January alone.
Opponents of the ballot measure include prominent local developers such as SunCal, Kilroy Realty, and Century City Realty. Together they raised $190,910 in cash contributions between January 1 and January 21, according to ethics commission filings reviewed by Curbed.
On the other side, the Coalition to Preserve L.A. raised $300,952 in that same period — all but $952 of which came from the AIDS Healthcare Foundation, the organization that has bankrolled the campaign from the get-go. The AHF has given over $2 million total to the campaign since early 2016. It also has used its pre-existing billboard spaces, formerly used to support AHF campaigns, to promote Measure S.
Backers of Measure S are estimated to have funneled nearly $200,000 worth of these non-monetary contributions into the Measure S campaign in the first three weeks of January.
If enacted, Measure S would suspend for two years every development that calls for a zoning or general amendment change. Opponents of the initiative, including Mayor Eric Garcetti, say the moratorium would aggravate L.A.'s housing shortage. [Curbed] — Cathaleen Chen