NGKF hires Eric Lastition and Geoff Ludwig from Colliers, Phil Brodkin from Regus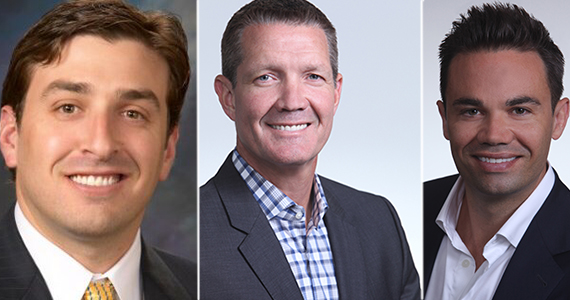 Newmark Grubb Knight Frank's L.A. hiring frenzy does not appear to be slowing down.
The firm brought three new hires on board this week, The Real Deal has learned. Phil Brodkin jumped ship from his post as Regus' director of real estate to oversee all three of NGKF's L.A. offices. Veteran leasing brokers Eric Lastition and Geoff Ludwig — who have spent almost the entirety of their careers at Colliers — joined the firm Monday as executive managing directors in its El Segundo office.
At Regus, Brodkin oversaw the company's expansion to 1.5 million square feet of new locations, in addition to managing its existing portfolio, according to a statement from NGKF.
Lastition and Ludwig spent 27 and 19 years at Colliers, respectively. As one of the top leasing teams in the South Bay, they represented landlord Barker Pacific Group in its more than 300,000-square-foot lease deal with Northrop Grumman Corporation at 101 Continental Tower in El Segundo.
The team's focus on landlord and tenant representation in the South Bay, in addition to small building sales, will not change much under the new banner, Ludwig said.
"NGKF has a great Capital Markets platform that was missing at Colliers and a Westside presence that was missing, so that was part of [the decision to move]," he said.
Lastition stressed there was no bad blood when the team departed.
"It was really just a career decision," he said. "We are very grateful for what we had at Colliers and it was hard to leave. [NGKF] approached us with an opportunity to take our game to the next level, and this seemed like platform to chase that. A lot of it was that, after 27 years, I needed to do something new."
NGKF has been on a poaching bender ever since it nabbed capital markets bigwig Kevin Shannon — and 14 of his team members — in early 2016. Since then it has steadily added to the team and other branches of the L.A. operation. Other recent hires include industrial broker Bret Hardy from Colliers and Brad Feld from Madison Partners.
The brokerage submitted initial documents to the Securities and Exchange Commission earlier this year for an initial public offering, TRD reported.