Downtown Class A office market cools off while Westside growth spurt continues: report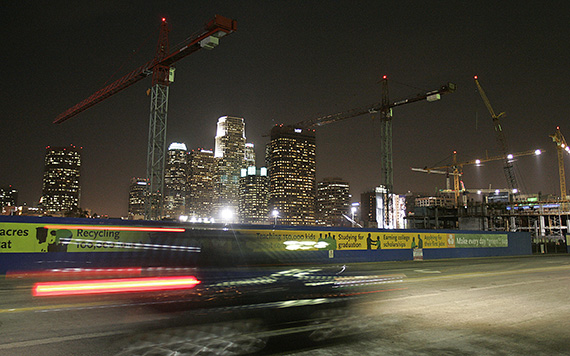 It's a tale of two cities.
While the Westside of Los Angeles is benefitting from steady hiring and leasing by entertainment and media companies, rent growth in Downtown L.A. barely kept pace with inflation over the past year, according to a forecast by Savills Studley. The firm predicts those trends continuing for the balance of 2017, the forecast shows.
While rents rose for the third straight year in Downtown L.A.— they were up 2.9 percent $3.50 a square foot a month — Downtown landlords began to ramp up concessions due to cooling demand, according to the report. In some cases, concessions offset rental rate increases entirely.
"As 2016 was coming to a close, some owners were already starting to adjust lease terms in response to cooling demand," the report said. "Leasing activity is expected to lose more steam in 2017."
Meanwhile, on the Westside, rents skyrocketed for the fourth year in a row, by nearly 8 percent to $4.92 per square foot. Savills predicts that rent growth will continue, as leasing volume for Class A exceeds the long-term average by more than 10 percent.
"Landlords pushed rent sharply higher," the report reads. "Investors continue to pay a premium for assets on the Westside, in several cases exceeding $500 [per square foot] and putting additional upward pressure on rent."
Savills director of U.S. analytics Keith DeCoster attributed the disparity between the two areas to the different nature of the tenant base.
"The divergence is that DTLA has struggled to [continue growth] as it's reliant on traditional tenants such as law firms and banks, while on the Westside, the creative tech tenants naturally generate more growth and more competition," he told The Real Deal.
Among the major deals inked on the West Side in recent months, video game developer Riot Games more than doubled its lease at Kilroy Realty's Westside Media Center, to over 154,000 square feet at the three-building office on Olympic Boulevard.
Downtown, Cushman & Wakefield announced that it had signed a long-term lease at the Wilshire Grand Center, a 2.1-million-square-foot office tower by Hanjin International Corp., an affiliate of Korean Air.