Inside LA's bid for Amazon HQ2
Among the 20 finalists, does the city stand a chance?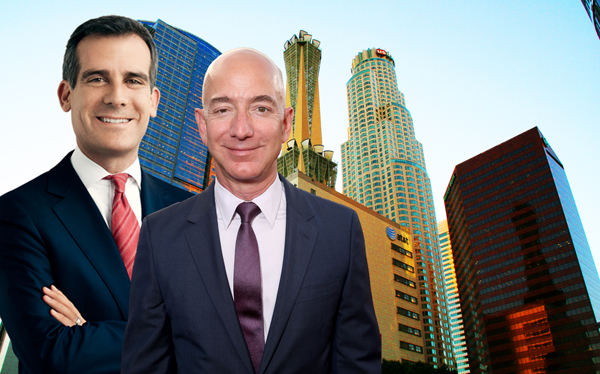 Jeff Bezos started a Hunger Games-like competition in September, pitting cities against each other in a nationwide battle for hosting privileges of Amazon's second headquarters. Los Angeles, like many others, entered the ring.
L.A. is still standing.
The city's bid — actually nine separate sites — made the shortlist for the $5 billion project, along with 19 other cities, Amazon announced Thursday. In all 238 cities submitted proposals from around the U.S., Canada and Mexico.
While the L.A. County Economic Development Corp. has refused to disclose key parts of the bid — citing "competitive reasons" — other elements have been made public. Those shed light on the massive scope of the proposal, and its difficult path to taking the grand prize.
Two of the nine locations are known: United Technologies Corp.'s Warner Center in the West San Fernando Valley, and the FivePoint Holdings Newhall Ranch in the Santa Clarita Valley.
The Warner Center, a massive mixed-use site in Woodland Hills slated to open in 2020, would support the thousands of employees Amazon says the headquarters will draw. That's thanks to a long-range zoning plan that would allow Amazon up to 30 million square feet of commercial space, with no height caps in most of the district. City Council member Bob Blumenfield, a strong supporter of Amazon HQ2 in L.A., cites the newly-enacted measure, called Warner Center 2035 Specific Plan, as a key reason.
In the Santa Clarita Valley, FivePoint Holdings' Newhall Ranch is developing 11.5 million square feet of commercial space. The L.A. County Supervisors-approved community will also offer more than 20,000 new homes for the region once completed.
The e-commerce giant is primarily looking for a city with an educated workforce, friendly business incentives, at least 1 million people and a low cost of living, according to Amazon's stated goals.
So now that L.A. is a finalist, how does it stack up against the 19 other competitors, including New York City, Boston, Denver and Chicago?
L.A. ranks in the top three when considering total population and median age, according to a new demographic survey from Transwestern. On the downside, the County placed last in the affordability category, with a high median home value: it hovers around $554,000.
Another notch against it is the region's less than stellar proportion of number geeks. Only 2.4 percent of adults are in computer or math operations, according to the survey. That compares to tech hub fellow finalist competitors like Raleigh and Austin, which have around 6 percent.
Still, the L.A. area has top-ranked schools like the University of Southern California and the University of California, Los Angeles, which would offer an educated workforce.
L.A. Mayor Eric Garcetti has also tried to assure the retail giant, calling his city "the perfect place for a company like Amazon to find talented workers, and an environment that nurtures growth and innovation."
Government officials have unsurprisingly, been rallying behind the project. In a letter sent to Bezos in October, Gov. Jerry Brown mentioned Amazon could qualify for up to $200 million as part of the California Competes Tax Credit program, and up to $100 million in workforce training funds. That pales in comparison to another finalist, New Jersey, whose legislature earlier this month set aside up to $5 billion in incentives to help lure the company to its site in Newark. Chicago has offered $2 billion in similar funds, while Denver has promised job training grants of up to $1,200 per employee and a job growth tax credit.
To keep up, L.A. has established a multi-agency "strike team," which would help Amazon speed through existing permits, Gov. Brown has said. Other incentives the city is dangling include local property tax abatement for up to 15 years, a zero-emission shuttle bus to transport employees around campus, and access to at least six other tax credit programs.
"When any company is planning to invest $5 billion and create up to 50,000 jobs, they are not only looking at land and amenities. They are looking for a vibrant culture with eclectic talent to invest in and Los Angeles is just the place," said Councilman Blumenfield.
But delivering Amazon HQ2 to L.A. won't be easy, he acknowledged. "The odds of Los Angeles becoming the location of HQ2 is 20:1," he said. "But that's a whole lot better than 238:1, which is where we stood yesterday."