Kushner conflicted
The real estate scion's role in Donald Trump's inner circle — the latest in a string of conflicts — has put him at direct odds with many of his</br> business colleagues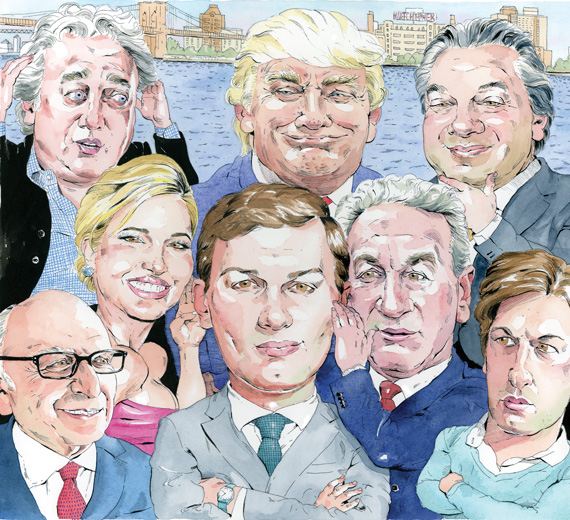 Last June, Mary Ann Tighe, one of the city's top commercial real estate brokers, had an awkward exchange with New York real estate heir and publisher Jared Kushner.
Tighe — a Democrat who's supported Hillary Clinton and Al Gore in past elections — happened to be in Kushner's office on business the day his father-in-law, Donald Trump, announced his bid for the White House.
In one of his most controversial speeches to date, the Republican presidential candidate had railed against Mexican immigrants, saying that many of them were criminals and even rapists. In the wake of the speech, celebrity chef José Andrés said he would not open a Spanish restaurant at the Trump International Hotel in Washington, D.C., a project headed by Kushner's wife, Ivanka Trump.
Despite the way the campaign announcement unfolded, Kushner still seemed pumped, offering Tighe a signature Trump "Make America Great Again" cap, she recalled in an interview with The Real Deal.
"He said to me, 'Isn't he amazing? He just comes up with it. He doesn't hire a consulting team or a marketing team. These things come right out of him,'" Tighe recounted.
But she couldn't square Kushner's support for Trump with his family's long history in Democratic politics. The New York Observer, which Kushner owns, had been the first New York paper to endorse Barack Obama for president in 2008. And Kushner had said in the past that Hillary Clinton is "as stand-up as they come."
Those days are long gone.
Now, as Trump has become the most controversial presidential candidate in modern history, Kushner has put more ideological distance between himself and many of his colleagues in the industry — and even his own family members.
Two of Kushner's cousins publicly rebuked him when the 35-year-old published a story on the Observer's website about their shared grandparents surviving the Holocaust,  to tamp down accusations of anti-Semitism against his father-in-law over a controversial tweet. While he was already estranged from those cousins, that all happened after one of Kushner's own reporters called him out for allowing Trump to give repeated "accidental winks" to white supremacists and anti-Semites.
Those in the know say that Kushner — who is well accustomed to wearing the multiple hats that come with running a large Manhattan real estate portfolio, owning a NYC newspaper and being a member of two prominent local families — is now being pulled in more directions than ever.
Since his $10 million purchase of the Observer in 2006, his conflicts of interest have seemingly grown in scope. His control of the Observer has drawn criticism from in-house reporters and editors as well as other journalists for what many have deemed a watering down of the paper's unapologetic satirizing of the city's elite and its sharp-tongued tone. And while Trump has garnered support from a number of big NYC real estate executives — Douglas Elliman's Howard Lorber, billionaire developer Richard LeFrak and Vornado Realty Trust's Steven Roth among them — Kushner's efforts to drum up support for his father-in-law have put him at odds with many of his peers in the business.
Some in the industry have started to wonder whether Kushner is building a house of cards — and what it will mean for his reputation and ever-growing real estate empire if Trump continues to rack up more controversies.
"I said to him, 'It has to be so difficult for Ivanka and for you,'" Tighe recalled of her exchange with Kushner. "I said how difficult that has to be for her — a serious working mom — and having this occur."
Kushner cited an earlier conversation he had with his wife of more than six years, Tighe said.
"Ivanka said, 'How can we deny my father our support? His whole life has been a dream come true. If this is his dream, we have to back him and believe in his dream,'" Tighe remembered Kushner saying.
"In their view, they're family and, therefore, if this is his dream, they're there for him," Tighe added.
Other colleagues have raised the possibility that Kushner's involvement in Trump's campaign could erode the strength of Kushner's wholesome image — especially in ultra-liberal New York City, where the young mogul spent years rebuilding his family's reputation by targeting high-profile deals in Manhattan and Brooklyn after his father went to jail in 2007 over illegal campaign contributions and other crimes.
"It's one thing to be neutral outwardly but work internally to be supportive to a family member. It's quite another to bake this into your legacy," said one New York political insider, who spoke on the condition of anonymity. "Look, even if Trump loses, Kushner will still be a powerful guy with a lot of money. But the first sentence of his bio will always read 'Trump's son-in-law,' and all of the lasting negatives that go with that will follow him. You mess with the skunk, you get the stink — and the Trump stink is lasting."
Vocal opposition
Developer, investor and art collector Aby Rosen — the owner of the Seagram Building and the Paramount Hotel, and Kushner's partner on a massive Brooklyn redevelopment project — provided a window into his own view last month when he plastered a massive anti-Trump billboard on a vacant site owned by his firm, RFR Holding, in Noho.
German-born Rosen is hardly known as a shrinking violet. He once famously referred to developer Gary Barnett's One57 condo tower as an "ugly monster" and called Tom Wolfe, the author of "The Bonfire of the Vanities," a "buffoon."
Rosen has worked closely with Kushner since 2013, when their two companies partnered with LIVWRK and Invesco to buy a portfolio of five Dumbo buildings owned by the Jehovah's Witnesses for $375 million. Together, the companies have revamped and rebranded the buildings as a creative office complex for companies such as Etsy and WeWork. Representatives from both firms sit down once a week to discuss the project's progress.
When the Witnesses opted to sell another of their Dumbo buildings earlier this year, the iconic Watchtower property on the Brooklyn waterfront, RFR and Kushner Companies were planning to partner once again. But when the deal finally closed for $340 million last month, Kushner's name was listed on the paperwork without Rosen's next to it.
Rosen's partner, Michael Fuchs, told TRD that RFR had pulled out of the deal for business reasons, saying the principals hadn't been comfortable with the team's ad hoc approach.
"It was a kind of a bidding situation and we needed to act very quick, and a lot of things were not really vetted out," he said. "There was an understanding of, 'Let's get the deal first, and then we'll deal with the details.'"
Others speculated that Rosen and his partners at RFR had been unhappy with the terms of the deal. But when RFR's billboard went up with the words "Vote Your Conscience" in giant letters — a nod to former presidential candidate Ted Cruz's Republican National Convention speech, in which he opted not to endorse Trump — rumors swirled that Rosen's anti-Trump position had led to a rift between the partners.
As for the billboard, Fuchs called it "ingenious" and said that as a committed Democrat he stood behind the message.
"I think [Rosen's] motivations [for putting up the billboard] are pretty obvious," said Leonard Steinberg, president of residential brokerage Compass, who leads sales at one of Rosen's biggest condo projects, on East 53rd Street.
"It's extremely brave for him to stand up and say something as boldly as that," he added. "Too often people hold back, and I have to hold back in the position I'm in. But he's a very wealthy, successful guy, and he can afford to. You've gotta love someone for that. Aby is an immigrant, and he moved to this country for exactly what this country stands for."
Tighe echoed that sentiment. "I don't think I'd be quoting Ted Cruz, but you've gotta love Aby because he's a man of the big gestures," she said.
But Trump's NYC real estate supporters are equally as powerful and cannot be underestimated. For his part, Lorber — a longtime Trump friend who along with Roth and others is a member of the candidate's economic advisory committee — said it would be foolish to mistake Kushner for a pushover.
"There's an old saying, 'Don't take my nice demeanor or my kind temperament to mean I won't go after you and kill you if you do something I don't like,'" said Lorber, who recalled hanging out by the pool several years ago at Mar-a-Lago, Trump's Florida estate, with Kushner and the rest of the Trump clan. "He just doesn't show it."
But many seem to think Kushner's gung-ho involvement in Trump's campaign, which seems to go against his own political leanings, is simply a case of family loyalty run amok.
"Family loyalty is paramount," said supermarket and real estate mogul John Catsimatidis, a onetime mayoral candidate. "I was a Democrat too until my daughter married a Nixon."
Indeed, the Kushners are said to be an especially close-knit group who only got tighter after enduring a political and social scandal.
Kushner's father, Charles, spent 14 months in prison after being charged with hiring a prostitute to seduce his brother-in-law and videotaping the act in an attempt to prevent his sister from providing testimony against him.
Today, Charles is regularly seen around the office, according to sources, while Jared's sister Nicole, who recently joined the family business, has been seen touring properties with her brother. Family members are known to kiss and hug in meetings.
"Anytime he speaks to anyone in his family, it's 'I love you,'" said Asher Abehsera of LIVWRK, his partner in several Brooklyn deals. "He'll stop meetings to be like, 'My brother's calling, my dad's calling, my wife's calling.'"
That's why it was such big news when his brother, the CEO of the venture capital firm Thrive Capital, declared (through a spokesperson) to Esquire magazine that he would not vote for Trump.
Sources close to both brothers said they were surprised that Josh would so publicly oppose his older brother. "If he was getting pressure from his entrepreneurs, he could have talked to them one on one," one person familiar with the matter, who asked to remain anonymous, told TRD.
But a spokesperson for Jared denied a rift between the two.
Meanwhile, Kushner's estranged cousin Jacob Schulder has called Trump "a lying idiot with little to no experiences outside his teetering fiefdom of failed development projects, divorces, bankrupted sports leagues, fraudulent 'Universities' and golf courses."
For his part, Kushner has remained tight-lipped about his involvement in the campaign, several of his friends and business associates told TRD. And those who are not supporting Trump have largely not been inclined to bring it up or debate it with him.
Sandeep Mathrani, the CEO of General Growth Properties and a close friend of the Kushner clan — he's Charlie's running buddy — said he's purposely avoided the topic of the campaign.
"I have a relationship with him because his name is Jared Kushner and because he's his own person," he said. "I don't want to put him in a difficult position by asking difficult questions, so I've stayed away from that."
Others who do business with Kushner said the only signs that he's been involved with the campaign have been a few canceled meetings due to travel that's seemingly related to presidential primaries, though Kushner never actually cited that as a reason. Some said they're surprised that Kushner never approached them about donating to the campaign, suggesting that he might be wary of putting friends in uncomfortable positions, since some of Trump's views are so divisive.
"The natural politics of the city go in a completely different direction," Tighe said.
Fuchs said there's no room for common ground when it comes to Trump.
"There's no upside to talking about it, because my position is so far from his," he said. "A lot of friends feel uncomfortable to talk about it, because there's no upside. We know [Trump] from New York and how he conducted himself in the industry. You'll find very few people who will be supportive of him."
Even Marc Holliday, the CEO of SL Green Realty Corp. and a longtime friend and confidant of Kushner's, said the young real estate executive has barely breathed a word about the campaign — and never broached the topic of fundraising.
"We don't really talk about it," Holliday told TRD.
As for whether Kushner would hold a grudge against Rosen, Holliday said he was unfamiliar with the specifics but didn't know Kushner to take slights lying down. "I assume that Jared, like any of us, if he feels he's been mistreated, he would take it personally and he would want to rectify that."
Despite his commitments to the campaign, Kushner is still actively making deals. Last month, the firm inked a 15-year lease to bring an 11,970-square-foot food hall curated by chef Todd English to the 250,000-square-foot retail condo it owns at the former New York Times building on West 43rd Street. And the company tapped the Blackstone Group and SL Green to provide $376 million in financing in its most recent Dumbo deal.
A spokesperson for the company said the presidential race has had no impact on the firm's business dealings. "In 2016, Kushner Companies has executed some of the most significant acquisitions and asset repositionings in the history of the firm, and moved forward with large-scale development projects from Brooklyn to Jersey City — all bolstered by strong and sustainable institutional partnerships," the spokesperson said in a statement.
Playing both sides
Whether or not Kushner truly believes in Trump's campaign platform, he remains in an awkward position — at least until after the Nov. 8 election.
If he does believe in it, then he finds himself surrounded by many (though not all) in his social and business circles who acutely oppose his political views. If he doesn't, then he's campaigning for a candidate he disagrees with  and muzzling his own views.
But Kushner is no stranger to balancing conflicting interests. His brother's $1 billion health insurance startup, Oscar, has benefited greatly from Obamacare, an initiative that Trump has vowed to repeal if elected.
He's been simultaneously called squeaky-clean and a slumlord for his work in repositioning East Village walk-ups. One disgruntled longtime resident of 170 East Second Street, a Kushner building, was less than complimentary when talking about her landlord. "I'm disgusted," Mary Ann Siwek told TRD when asked about his role in Trump's campaign.
Meanwhile, Kushner is now on the same political team as New Jersey Governor and former presidential hopeful Chris Christie, who prosecuted the case against his father back when he was U.S. attorney for New Jersey. It was widely speculated that Kushner had been opposed to the selection of Christie as a running mate for Trump.
And when real estate lenders were forced to stop working with his father after his prison stint, Kushner publicly pulled away from his dad, insisting that he was his own person, doing his own deals. He told TRD in 2013 that his father had little involvement in the day-to-day running of the firm. Insiders said those claims were stated, at least in part, to assure creditors that Charles was not in charge of their money, since he was a convicted felon. But sources say that while Charles' name never appears on a deed, he is a driving force in many of the company's deals.
"They make decisions as a family," said Mathrani.
Though his father has a reputation as a straight talker with a foul mouth and a flaring temper, Jared is better known for keeping his emotions in check. The elder Kushner has reportedly gotten into screaming matches with Roth over plans to develop the lower floors of 666 Fifth Avenue — where their companies are partnered — into a retail mall, for instance. (Charles has not publicly disclosed who he's supporting in the presidential race.)
"With me, [Jared] never flies off the handle," said power broker Doug Harmon of Eastdil Secured. "He's got an old-school polish and charm."
Not everyone had that take on Kushner, however. According to Esquire, Roth, who believes the tower works best as an office complex, is said to have criticized Jared's arrogance in thinking he knows what's best for the building.
But Roth, who almost never provides statements to the media, came out of hiding to deny that characterization. "Jared is very smart and hard-working. And he is certainly not arrogant," the Vornado CEO told TRD through a spokesperson.
In recent months, Kushner's backing of Trump has also bled into his role at the Observer, where some have criticized his friendly treatment of the GOP nominee and the role he plays in general when it comes to shaping the paper's coverage — particularly of friends and foes in real estate.
Elizabeth Spiers, the paper's former editor-in-chief, revealed on her website in July that during her tenure, Kushner aggressively pushed for a hit piece on competitor Richard Mack after the two clashed over 666 Fifth.
Mack was a senior executive at his family firm AREA Property Partners back when it was actively acquiring a portion of the debt on the then-troubled building at a significant discount. He reportedly took a tough line with Kushner, who was faced with the possibility of losing the tower.
Spiers wrote that it wasn't the first time Kushner had interfered in the Observer's editorial process. And sources told TRD that Kushner, while an infrequent presence in the newsroom, also pushed to block several stories, including a profile of Holliday. Reporters have also been firmly instructed never to cover Howard Michaels of the Carlton Group, the real estate finance broker, unless it's part of a major breaking news story. Nobody seemed to know the origin of Kushner's beef with him.
Michael Stern, the CEO of JDS Development, was also on the "do not write" list for a short while but was recently taken off, sources at the Observer said. Stern and Kushner are working together once again, with Kushner providing some of the debt on Stern's planned Downtown Brooklyn mixed-use tower.
In the case of the "Big Dick Mack" story, as it became known in the Observer newsroom, Kushner insisted that there was a story to pursue even when reporter Dan Geiger determined that there was no merit to the tip, according to Spiers' account.
Both Spiers and the reporters declined to comment on the nature of the story Kushner was pushing. But others said Kushner had directed reporters to reach out to several people in the industry, including Neil Rubler of Vantage Properties. However, Rubler told TRD he had never provided any intel or said anything negative about Mack to reporters from the Observer and Spiers said the story never panned out. Kushner's grudge still appears to be holding. In recent years, Mack has fallen off the Observer's Power 100 list and its list of top people in real estate finance, despite being one of the city's most prominent real estate executives. Through a spokesperson, Mack declined to comment for this story.
Meanwhile, the Trump family has made frequent appearances on those lists.
"Anytime you had a power list, you had to involve a Trump," said one former reporter. "It didn't matter about performance or revenue. It was family obligation. We did it begrudgingly, knowing it was the cost of the job."
Quest for power
Kushner has spent years carefully crafting his public image as someone who is smart and understated and who avoids the spotlight. He is more often dressed in slacks and New Balance sneakers than the Tom Ford and Giorgio Armani suits worn by many of his industry colleagues.
Meanwhile, he and Ivanka continue to play the ordinary New York couple well. Last month they posted pictures on social media of their date night at an outdoor movie in Williamsburg's McCarren Park.
When Kushner closed on the Brooklyn Watchtower property last month, he didn't hit the town to celebrate. He and his partners just "exchanged some nice emails," according to his attorney, Robert Ivanhoe.
But the attention brought by the Trump campaign, and the questions it's sparked about Kushner's true motivations, have led some to ask whether he craves the spotlight more than he's let on. Over the past 10 years, Kushner has gone after some of this city's most high-profile assets — 666 Fifth was the most expensive building ever sold in New York when he bought it in 2007 for $1.8 billion. And in addition to being married to a celebrity and owning a once-iconic NYC newspaper, he even made a brief play in 2012 to buy the Los Angeles Dodgers.
And for every evening he spends with hipsters in McCarren Park, there's one spent on Hollywood billionaire David Geffen's yacht off the coast of Croatia, schmoozing with Wendi Deng, Rupert Murdoch's ex-wife. He also counts big names such as Adam Silver of the NBA and fashion designer Diane von Furstenberg as close friends, along with Murdoch, former New York City Schools Chancellor Joel Klein and Hollywood titan Michael Ovitz. When Kushner needed some help buying Brooks Brothers out of its lease at 666 Fifth, Mathrani came to his aid for no other reason than as a gesture of friendship, the GGP chief said. Mathrani later received two Brooks Brothers ties in the mail as thanks.
"He's got a big-time Rolodex," Eastdil's Harmon said. "He's harnessing a lot of people."
Kushner has also reportedly become a broker of sorts between Trump and the media titans who might help get him elected, including Robert Thomson, who runs Murdoch's newspapers, according to the New York Times.
"I think he wants to be a significant participant in the New York picture and he's placed himself squarely in the middle of all that's going on in the city, whether it's through his business dealings, the ownership of the newspaper or through his activities on a national campaign," Holliday said. "He's shown that he's someone who wants to effectuate change."
Some said Kushner's thirst for influence and his desire to stay out of the limelight need not be contradictory.
"Mayor Bloomberg's kind of like that, isn't he?" said Arthur Mirante of Avison Young, who's worked closely with Kushner in recent months. "[Bloomberg] was always pretty introverted. I don't remember him running after the press too much, even after he ran for mayor."
Others said Kushner's past moves were not so much a sign of ego as about getting his name on the map after his father's legal fiasco sullied the family name.
"He had a motive to resurrect his family's reputation, to establish the Kushner name as a prominent owner of real estate on the New York scene," Mathrani said. "I think that's a big reason why he bought 666. It was instantaneous name recognition, instantaneous credibility."
Starting an industry publication, the Commercial Observer, in 2009 may have served a similar purpose. "What better way to ingratiate yourself to the New York City real estate community than to launch a trade paper that's 98 percent fawning in its coverage?" said one former Observer reporter.
Yet if Trump loses the election, which is looking increasingly likely — some recent polls give him only a 15 percent chance of winning — insiders say Kushner and Ivanka may have to embark on a (rebranding) campaign of their own.
As for the billboard, Fuchs said Kushner took it as well as could be expected. "We spoke quickly about it. He totally understands that it's not against him," the RFR executive explained. "He's not Trump. Trump would probably be mad."
Still, some things are better left unsaid. Asked whether he and Rosen gave Kushner a heads-up that the billboard was going up, Fuchs quipped: "He doesn't tell us every step of what he's doing."