Developer unveils plans for Gateway at Wynwood mixed-use project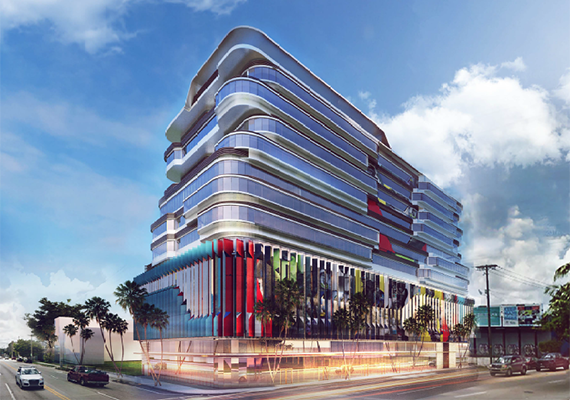 New York-based R&B Realty has submitted new plans for a mixed-use office project in Miami's Wynwood neighborhood. 
An affiliate of R&B, led by Aron Rosenberg, will go before the Miami Urban Development Review Board on Wednesday with its plans for the Gateway at Wynwood, a 12-story building proposed for 2916 North Miami Avenue.
The Gateway would have 464,700 square feet of space, which would include 184,800 square feet of office space, 33,750 square feet of retail space and 574 parking spaces, according to documents filed with the city of Miami on Thursday.
The developer is looking to increase lot coverage from the 80 percent that's currently allowed to 86 percent, and is seeking a 10 percent reduction in required parking, among other waivers. Kobi Karp Architecture and Interior Design is the architect.
R&B affiliate 2994 NMA Gateway Properties, R&B bought the 1.12 acre site for $18 million in two separate transactions in 2016.
In October, a Miami planning and zoning board approved converting the property from multifamily to general commercial zoning, but denied the developer's request for a change in height. At the time, R&B's attorney told the board that the zoning changes would allow the entire property to conform with the Wynwood Neighborhood Revitalization District zoning overlay, which was adopted last year to make commercial and residential high-density development easier in the trendy arts district. The R&B lots, located at 2916 North Miami Avenue and 2994 North Miami Avenue, fall both inside and outside the overlay's boundaries.
The Gateway at Wynwood isn't the only new office building proposed for Wynwood, but it may be the largest. In December, RedSky Capital unveiled Cube Wynwyd, an eight-story office building at 222 Northwest 24th Street. The project, designed by Arquitectonica, will have 80,000 square feet of office space and about 11,400 square feet of retail space, and is set to open in 2018.
Akerman attorney Nicholas Barshel, who submitted the Gateway plans on behalf R&B, could not immediately be reached for comment.