New Jersey grocer buys big blue Highland Beach house for $5.6M
Designers and developers Mary and Jack Widmer sold the home for $722 psf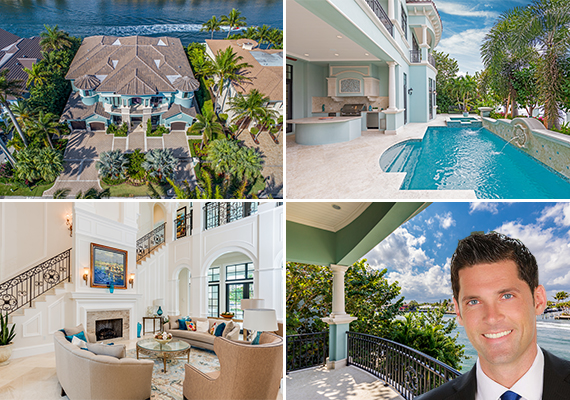 UPDATED June 28, 5:20 p.m.: New Jersey grocery store owners and real estate investors Sam and Margaret Marrazzo just purchased a waterfront home in Highland Beach for $5.6 million, property records show.
Designers and developers Mary and Jack Widmer sold the 7,760-square-foot blue house at 4230 Intracoastal Drive for about $722 per square foot.
The buyers own and operate a family run grocery store and the shopping center it anchors in Ewing, New Jersey called Marrazzo's Thriftway, according to its website.
Chad Carroll and Michael Prettitore of Douglas Elliman were the listing agents. They took the listing over from Olive Belcher from Lang Realty in December, Carroll told The Real Deal. It hit the market in October 2015 for about $6.3 million, which means it sold at a 11.1 percent discount.
Joyce Schneider, broker and owner of the Boca Raton-based Castles By The Beach Realty firm, represented the buyers.
Records show the Widmers paid $1.3 million for the property in 2012 through JMW Florida Properties LLC. The couple developed the five-bedroom, six-bathroom and two half-bathroom home in 2015. It features a waterfront pool with a private dock, media room, a library, an elevator and a club room with a wet bar.
"[Mary Widmer] is known to have vibrant colors, green, blues, turquoise and other shades in multiple homes in the area," Carroll said, adding that each room has blue accents.
Carroll said the neighborhood is going through a"transitional phase" with property values increasing. "Tear downs or remodels right now would cost a couple of millions."
Last year, a 15,141-square-foot waterfront estate in Highland Beach sold for $16.5 million.
Nearby in Manalapan, Carroll also brokered the $21.45 million sale of the Manalapan mansion at 840 South Ocean Boulevard in February.
Correction: An earlier version of this article incorrectly stated the house hit the market in October 2015  for $6 million. It was listed for $6,299,000.