Trump Group closes on Estates at Acqualina site in Sunny Isles
Developer nabbed $71M loan from Bank of the Ozarks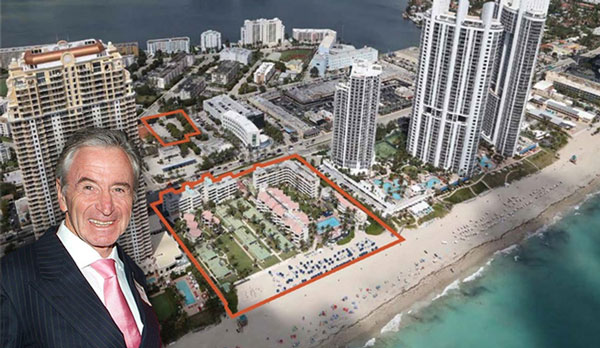 The Trump Group closed on its planned Estates at Acqualina site in Sunny Isles Beach, property records show.
Trump's A3 Development LLC owned 96.5 percent of the low-rise timeshare resort at 17901 Collins Avenue and bid at least $26 million to buy out the Golden Strand Ocean Villas Resort Condominium. A final sale price is not available in public records, but the developer financed the deal with a $71 million mortgage from Bank of the Ozarks. It will become a construction loan, developer Jules Trump previously said.
The Trump Group plans to build a two-phase, two-tower luxury condo project on the 5.6-acre property. The developer began acquiring units in the timeshare about five years ago, and bid on the entire site in mid-August. Trump plans to demolish the building this year.
CBRE's Christian Charre, Natalie J. Castillo and Paul Weimer brokered the auction. CBRE and Trump declined to provide a closing amount.
The site has more than 500 feet of oceanfront. It's just north of the Mansions at Acqualina, completed in 2015, and Acqualina Resort & Spa, completed in 2006.
Trump put the second tower on hold in October 2016 due to the market slowdown. Revised plans now call for a 154-unit, 51-story south tower and a 91-unit, 49-story north tower.
The Estates will feature a lobby designed by Chanel and Fendi creative director Karl Lagerfeld, and Villa Acqualina, a 50,000-square-foot building with a slate of amenities that will include a spa and fitness center, restaurant and Circus Maximus, an ice skating rink, bowling lanes and a movie theater, as well as a Wall Street Trader's Club room. The property will also feature landscaped gardens, multiple infinity pools, a FlowRider for surfers, a basketball court, bocce court, dog park, soccer field and a beachfront restaurant.
Trump has also said he's looking at expanding the Acqualina brand, which could include licensing opportunities.