Residents at Venetian Islands co-op allegedly burglarized by front desk attendant, want management company to pay
KW Property Management & Consulting says it is not responsible for an employee's acts when they are for the employee's own benefit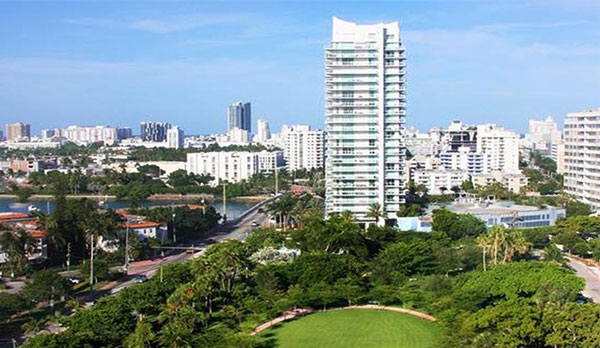 At least two residents of a Venetian Islands co-op were allegedly burglarized by a front desk attendant and are seeking reimbursement from the building's former management company, The Real Deal has learned.
The residents of 3 Island Avenue in Miami Beach say front desk attendant Jennifer Russell, an employee of KW Property Management & Consulting, took master keys to their units while she was on duty and stole valuables from them on April 3. A Miami Beach police report names Russell of Fort Lauderdale as the suspect and cites a video in which she was seen carrying a purse that resident Nazila Aboughaddareh said belonged to her.
When Aboughhaddareh came home to her unit that night, a bottom lock that she never used was locked and she couldn't enter. When she finally was able to gain access the next day, she found her closet ransacked, and at least $23,000 worth of goods — including jewelry from Tiffany & Co., David Yurman and Van Cleef & Arpels; Christian Louboutin and Gucci shoes; clothing, purses and two laptop computers — stolen. Her hard drive, which she said is key to her work as a communications consultant, was also missing.
"She was watching me," Aboughhaddareh told TRD. "She knew I had some luxury goods in the unit."
Similarly, Ofir Farahan said that when he returned home to his rented unit, he was unable to open the door because an extra lock was locked. After he called a locksmith and gained entry, he discovered that a brand new, boxed Mac desktop computer, a Breville juicer and a gold bracelet were stolen, with a combined value of $2,500.
A video recording shows Russell going up and down the elevator several times with full garbage bags that she took to her car, according to the burglarized residents and Diliana Alexander, president of the co-op board. Russell had been scheduled to work at the until 7 a.m. the next day, but left unexpectedly that night.
Alexander said the board of the 144-unit co-op was aware that Russell was "a problematic employee," because she had come to work late and had other issues. Alexander said the board had asked the management company to let her go before the thefts ever occurred.
On April 7, KW Management's district manager, Jeffrey Ulm, sent a letter to 3 Island Avenue's residents, informing them that the attendant obtained keys to the units and stole personal property. The unnamed attendant also opened and/or removed packages from the package room, he wrote in the letter, obtained by TRD. "KWPM is dedicated to ensuring the lost property is identified and replaced," he said in the letter, adding that the employee had been terminated.
According to a demand letter from Aboughhaddareh's attorney Adam Levit, Russell's fingerprints were found in Aboughhaddareh's unit.
Russell could not be reached for comment. Broward County arrest records show she was arrested in Dania Beach on July 26 for dealing in stolen property and for false verification of ownership given to a pawnbroker.
The demand letter includes a separate Broward County arrest report for Russell for retail theft on Jan. 25. "A company such as KW has a duty to perform a background check on prospective employees holding a position of power that would provide access to unit owners' apartments," the letter states. The attorney is seeking $65,000 in reimbursement, according to the letter.
Miami attorney Frank C. Simone, who represents KW Property Management & Consulting, said in a statement that an employer is not liable for an employee's criminal acts when they occur "outside the course of their employment" and "were not conducted in furtherance of the employer's interest."
The alleged robberies "were committed solely for the benefit of the accused — not for the employer," he said in the statement. He suggested the residents sue the alleged burglar.
Levit said he disagreed with KW's response. "Their defenses are meritless," he said, "and we are prepared to aggressively litigate this to make my client whole again."