Investors score Doral office and retail complex for nearly $7M
Investment partners plan to upgrade the property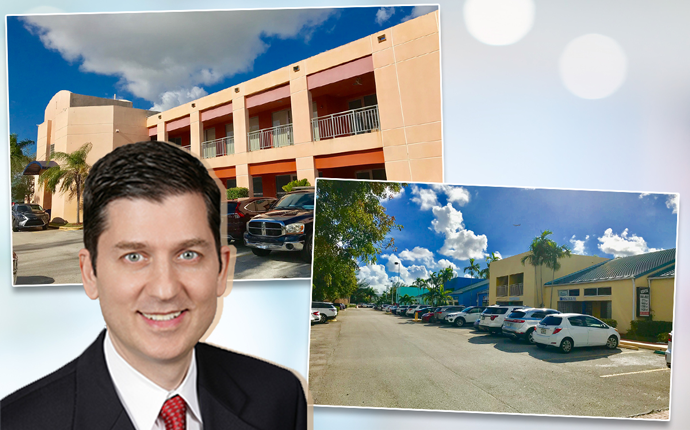 A family trust sold an office and retail complex in Doral for $6.6 million to investors who plan to upgrade the property.
The Ian Law Trust sold the 35,560-square-foot Showplace at Doral, at 9550-9594 Northwest 41st Street in Doral, to Americas 2122 LLC. The buying entity is led by Nelson Albareda and Jesus Iglesias of Doral, records show. According to LinkedIn, Albareda is the CEO of Loud and Live; and Iglesias is the owner of Matcon Trading Corp. The price equated to $185 per square foot.
Marcus & Millichap's Alex D. Zylberglait had the listing and also represented the buyer.
Zylberglait said the partners plan to make capital improvements to the two-building property and reposition it. "It's time for some fresh capital," he said. Upgrades are expected to include improvements to the common areas and facade and repaving the parking lot, he said.
Current office tenants include surveyors and engineers C.H. Perez & Associates; while retail tenants include Doral Insurance and various beauty salons, Zylberglait said.
"They are going to re-sign a number of leases that are coming up for renewal," he said. "There is room to increase rates, because many tenants have been there for many years."
The complex is across the street from Univision, and its back abuts Shoma Group's new Sanctuary at Doral, a multifamily project.
Investors and developers have been targeting Doral in recent years.
In May, Blackstone Group paid $208.75 million for a pair of neighboring apartment complexes in Doral. The Related Group and Rockpoint Group sold the 720 units, split between Doral View at 901 Northwest 97th Avenue and Town Fontainebleau Lakes at 1062 Northwest 87th Avenue.
Last month, Publix Super Markets paid $70 million for Doral Plaza Shopping Center, anchored by the grocery store. The company bought three properties at 9755 Northwest 41st Street, 9785 Northwest 41st Street and 9701 Northwest 41st Street, just about two blocks away from Showplace at Doral.