Mansion once owned by Palm Beach convicted fraudster sells for $30M
Robert Matthews was convicted for defrauding foreign investors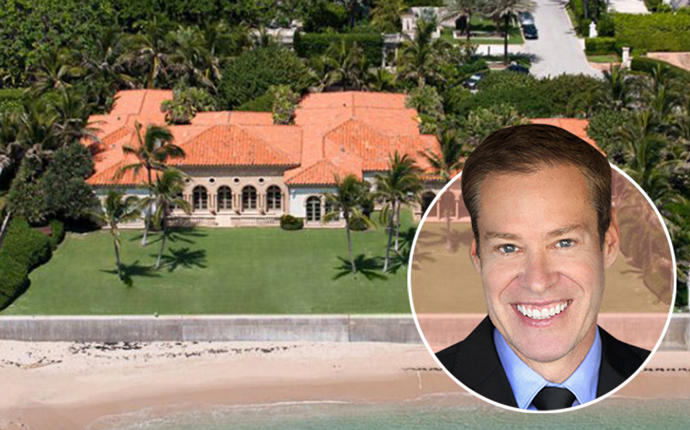 UPDATED, July 15, 10:16 a.m.: Just a few years ago, Palm Beach's high society packed the sprawling waterfront estate at 101 Casa Bendita to attend galas and charity events hosted by the town's hotshot developer Robert Matthews.
But the mansion has remained empty since Matthews was convicted in a federal court of defrauding foreign EB-5 investors in a failed Palm Beach condo-hotel project known as the Palm House Hotel. And on Friday, Matthews and his wife's former estate sold for $30.2 million to Vahan and Danielle Gureghian, a couple who run a charter school business.
The deal came about after a court-ordered auction to sell the property in March fell through. Bidders were required to make bids of at least $31 million to qualify, but no bid reached that level. The home was then taken over by its mortgage lender DB Private Wealth Mortgage in April.
In total, the mortgage company claims it was owed about $31 million from Matthews and his wife Maria. The mortgage company first tried to foreclose on the house in 2017, but Matthews' lawyers were able to postpone that foreclosure auction.
Matthews, who was previously a developer in Connecticut, was referred to in local publications as a real-life Jay Gatsby. He held lavish parties and collected antiques that included an original Bill of Rights. He was once considered the state's most eligible bachelor.
The 12,077-square-foot mansion was used by Matthews as a way to show that he was a successful businessman and entrepreneur, according to civil complaint by EB-5 investors in Palm Beach County.
The home has six bedrooms and a pool. It sits next to an estate that was previously owned by Tommy Hilfiger.
Ashley McIntosh, Gary Pohrer and Vince Spadea of Douglas Elliman represented the buyers in the latest sale.
Matthews purchased the property in 2006 for $14.9 million and built the estate the same year.
The buyers of 101 Casa Bendita are both attorneys in Philadelphia. Vahan Gureghian is also the founder and CEO of CSMI, a charter school management company, and Danielle is executive vice president and general counsel at CSMI, according to the company's website. The couple recently sold an estate at 1071 North Ocean Boulevard Trust for $40 million.
Matthews pleaded guilty in April in federal court to money laundering and tax evasion charges for defrauding foreign EB-5 investors in the Palm Beach condo-hotel project.
Matthew's wife Maria "Mia" Matthews, an actress, also pleaded guilty to tax evasion in federal court in Bridgeport, Connecticut.
EB-5 is a federal program where investors can get a green card in exchange for investing at least $500,000 in a U.S. enterprise and creating at least 10 jobs. The development group was able to solicit more than $45 million of EB-5 money for the Palm House development.
The development group assured investors that the project would be completed in less than a year and that their money would be protected in an escrow account with a bank. It also claimed that Donald Trump, Bill Clinton and Celine Dion would be on the condo-hotel's advisory board.
In reality, no such advisory board existed and much of the money was instead diverted for the personal use of the Matthewses, according to federal prosecutors.