Bringing some sunshine to South Florida's opaque resi report outlook
Confusing? Misleading? Here's why so many home sales reports vary in their findings — and the methodology behind them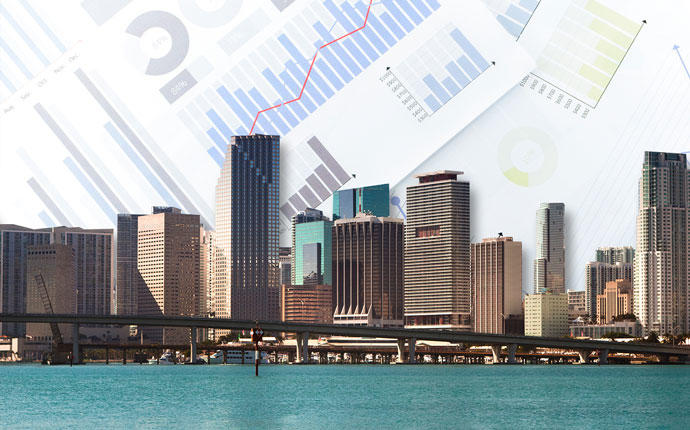 The condo market is in a slump. The luxury sector is outperforming others. Sales are up in what one report defines as Miami Beach, yet down according to another analysis.
Such headlines, especially in a slow market, can be confusing for buyers, brokers and builders.
While there's no shortage of residential market reports throughout the country, the results can often vary due to differences in methodology and data sources.
In South Florida there's the long-running Douglas Elliman reports, ISG World's Miami report — the only one that tracks preconstruction and new development sales — and the Anthony Graziano-authored One Sotheby's International Realty report, as well as those put out by other brokerage firms.
Such firms are quick to jump on trends and use the numbers to back up what their agents are seeing, such as an increase in buyers from high-tax states flocking to South Florida following changes to federal tax laws.
The Keyes Company, for example, released a luxury market report in July that focused on high-end single-family home and condo sales in Broward, Martin, Miami-Dade and Palm Beach counties, where the brokerage is active. Using data from the Multiple Listing Service, the Keyes report combines sales from all four counties to provide a regional snapshot, in addition to breaking down each respective county.
Brown Harris Stevens also publishes a luxury report focused on Miami Beach and other beachfront markets — it also puts out a countywide report — that dives into details like average days on market, bedroom counts and different price points, said Philip Gutman, president of BHS Miami.
Gutman noted his firm's luxury report comes in handy when pricing new development projects. "It's very difficult to price out new development when you have such a wide net that was thrown [in the typical market report]," he said. "I felt that that information was needed by the agents and by the consumer to make an informed decision."
Ana Bozovic, a broker who owns real estate data firm Analytics Miami, said that the information isn't wrong in the most popular reports, such as those from Elliman and ISG, but believes they lack context.
"The micro follows the macro, and while neighborhood data is helpful, awareness of the larger market cycle is more important," she said. Bozovic added that she would "love if these reports show transaction volume," noting that "no one knows we're at 2010 transaction volume. That's the most important thing. As a buyer, you do not want to be on the wrong side of a market trend."
Most brokerage heads are quick to defend their reports, noting that they rely on the underlying numbers to guide their conclusions.
Ron Shuffield, CEO of newly rebranded Berkshire Hathaway HomeServices EWM Realty, said that while he's "always pleased to offer my thoughts on a topic, [the] current and historical MLS data always serve as the base of our analysis."
EWM publishes a biannual Insight Real Estate Market Outlook Report, as well as quarterly, monthly and area-specific analysis based on MLS data. In an effort to parse the various narratives presented by so many different market reports, The Real Deal examined the methodology behind the major reports relied upon by industry sources in South Florida.
Elliman's analysis
Jonathan Miller, president and CEO of New York City-based appraisal firm Miller Samuel, creates the Elliman reports in 35 markets, including New York's five boroughs and their surrounding areas, as well as Boston, California and Florida.
In South Florida, Miller uses closed sales MLS data for single-family homes, condos and townhouses in the coastal communities of Aventura, Brickell, Coconut Grove, Coral Gables, downtown Miami, Palmetto Bay, Pinecrest and South Miami. Elliman considers all of those areas part of the "coastal Miami mainland."
Bal Harbour, Bay Harbour Islands, Fisher Island, Golden Beach, Indian Creek, Key Biscayne, Miami Beach and Miami Beach's Mid Beach, North Beach and South Beach neighborhoods make up Miami Beach and its barrier islands, along with North Bay Village, Sunny Isles Beach and Surfside, per Elliman's periodic analysis. South Beach includes properties in the 33139 zip code and those in the 33140 zip code south of 30th Street.
"As we separate a market — [we're cognizant of] how deep the sales activity is," Miller said. "One of the problems if you drill down too closely, like at the block level, the data set [becomes] too thin for data trending."
Miller noted that beach towns logically fit together, while the mainland municipalities do not. Elliman itself is focused on waterfront communities, which is why Miller's reports only focus on those submarkets. Of course, not all of the properties in those areas have a waterfront component to them. Even though Elliman is paying for his reports, Miller creates them independently and releases them to the brokerage and the public at the same time.
"These reports are used by the [Federal Reserve] and by government agencies… It's the only report I'm aware of that's done independently," Miller said. "The executives get the results when the media gets it. This is not a marketing brochure."
Miller, a veteran in the appraisal space, added that he and two of his employees create the reports and go through the data to correct any obvious errors.
"A robot can generate a report with numbers and the median price went up X percent year-over-year, but part of it is, what's the narrative? What does it really say? I know this metric went down, but it actually means the opposite and this is why," Miller said. "When the news is really good, the report reflects that. When the news is bad, the report reflects that. The narrative itself isn't couched to the positive."
ISG's market info
Aventura-based ISG creates the Miami report, a glossy magazine published each May that tracks new condo development sales from the beginning of the cycle.
The brokerage, led by CEO Craig Studnicky, also releases an update to the report in July, which shows how sales have progressed over the previous two months.
ISG defines the start of the cycle as 2012 and only includes markets from Coconut Grove to Fort Lauderdale and east of I-95. That leaves out new developments in western markets such as Doral and Sunrise. Reservations are not considered sales, but deals that are under contract are considered sold by ISG, the International Sales Group.
As with Elliman, ISG's Miami report combines a number of beachfront markets and brings in some Broward County cities. Bal Harbour, Bay Harbor Islands, Hallandale Beach, Hollywood, Miami Beach, South Beach, Sunny Isles Beach and Surfside all comprise "the beaches," according to ISG. Studnicky said his firm consolidates such locales because the buyer profile is similar in those markets.
"Someone who's looking at Brickell Avenue is not a customer for the beaches and vice versa," Studnicky said. "In my experience in South Florida, I have a lot of people I've sold the Muse [Residences] in Sunny Isles also considering Faena House in Miami Beach, [for example]."
ISG compiles sales reports from developers to get its numbers, which critics claim can be inflated since they're not independently verified. Studnicky disagrees.
"Everybody wants to make sure their numbers are reflected accurately in our Miami report," he said.
ISG's most recent Miami report shows there were 2,101 unsold units remaining out of nearly 20,000 units in the pipeline this cycle, or about 89 percent sold. ISG's second quarter update said there are now 1,988 units left to sell, meaning that developers unloaded 113 units between April 30 and June 30.
Other accounts and trends
One Sotheby's released its most recent trends report in August 2018 authored by Graziano, CEO of Integra Realty Resources. Last year's report added the Palm Beach County market as One Sotheby's began expanding northward, Graziano said at the time.
The One Sotheby's analysis looks at condo and single-family home sales, breaking down affluent South Florida markets, such as "Miami's South End," into submarkets that include Coconut Grove, Coral Gables, Cocoplum, Gables Estates, Old Cutler Bay and Palmetto Bay. Like other firms that focus on more expensive segments of the housing market, the Graziano-authored report examines markets primarily east of I-95.
The main difference between One Sotheby's, ISG, Elliman and the mainstream National Association of Realtors' Florida-focused reports is that the latter includes countywide MLS data in Broward, Miami-Dade and Palm Beach.
The One Sotheby's report also separates non-waterfront sales from waterfront sales, and breaks down different tiers of luxury sales — such as those in the $1 million to $5 million range, $5 million to $10 million set and the ultra-luxury tier beyond. Graziano, whose report uses historical data dating back to 2014, also pulls out data on price per square foot and the number of closed transactions.
Graziano said a team of three people compile the information and analyze it over a period of six to eight weeks, and it takes another two to three weeks to put it all together. He tries to avoid certain markers that he believes are often used as a scare tactic.
"I'm not a big fan of 'days on market.' When the market is hot, people overprice their products," Graziano said. "As more supply enters the market, people start to more aggressively list, which reduces the days on market."
Bozovic, of Analytics Miami, creates her own reports using MLS data and property tax rolls dating back to 2007 and earlier. She compares different periods in the market to "large moving boats" headed on a predictable path.
"None of this is magic," she said. "What's really important is [seeing] tops and bottoms. Markets are always cyclical, and anyone who thinks they're not is misinformed."