Manhattan's top 10 biggest homes
A new list shows where to find those 20,000-square-foot townhouses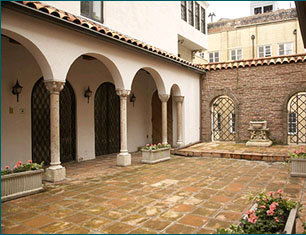 10. The Milbank Mansion at 14-16 East 67th Street (14,626 square feet)



For the past few decades, the five-story structure at 133-137 East 73rd Street was known as a "hotel for doctors" — among them, famed sex therapist Dr. Ruth Westheimer. But when Lloyd Goldman's BLDG Management scooped up the property for $32 million in 2007, he was envisioning something far more exclusive behind the landmarked façade.
The tenants were cleared out and conversion plans for single-family residential usage were drafted and approved. And after gutting the building, also known as 1024 Lexington Avenue, remnants of its original fireplaces and residential plumbing revealed that Goldman's idea to build a Manhattan mega-mansion wasn't such a novel one, after all.
At 24,207 square feet, the converted building would already be the borough's largest single-family home by a wide margin (the 21,700-square-foot Harkness Mansion at 4 East 75th Street currently holds that title), even before the 2,700-square-foot duplex BLDG is planning to add above it. But 133-137 East 73rd Street, which appears to be the combination of two neighboring townhouses, isn't the only former mansion angling to capture the biggest-in-the-borough distinction.
The 18,267-square-foot Henry T. Sloane mansion at 18 East 68th Street famously emptied the tenants who had been occupying its 11 apartments, before hitting the market as a single-family home in 2008. At $64 million, it was, at the time, the highest official asking price for a house ever in New York, though technically the city still lists the property on the tax rolls as an elevator apartment building. The Corcoran Group's Leighton Candler is now asking $39 million for the home.
As it turns out, Manhattan's biggest mega-mansions are difficult to pin down. Like the Henry T. Sloane mansion, many of the palaces that the city's wealthiest called home through the Great Depression have since been converted to rental apartments, condos and offices; often, said property appraisal guru Jonathan Miller, they're worth more that way.
After the Harkness Mansion, the largest single-family homes in Manhattan — as per their current taxable usage — all fall under the 20,000-square-foot mark, according to data compiled by PropertyShark.com for The Real Deal. The top 10 were all built between 1899 and 1915, and they are all located on the Upper East Side (see the chart below and the slide show above with photos provided by PropertyShark.com).
Among them is the 17,676-square-foot townhouse at 4 East 80th Street (No. 5), originally commissioned by Frank Woolworth for his daughter, Barbara Hutton, and more recently owned by the late fitness entrepreneur Lucille Roberts.
There is also 14-16 East 67th Street, renamed the Milbank Mansion to help it sell after Penthouse magazine publisher Bob Guccione lost it to creditors in 2006. Tenth on the list at 14,626 square feet (though the property has been marketed as covering 22,000 square feet), the Milbank Mansion was purchased by hedge funder Philip Falcone for $49 million in 2008 in one of the five largest single-family deals of the decade.
But not all of the single-family behemoths on the list are actually being used to house the well-to-do. At No. 3, the 19,580-square-foot Henry P. and Kate T. Davison House at 690 Park Avenue is the Italian consulate. The consulate of the Republic of Indonesia is located at the 19,746-square-foot 5 East 68th Street (No. 2). Both are still classified as single-family homes.
And although the sellers at 133-137 East 73rd Street dream of "a Madonna-type person" stepping up and turning the place into "one of the nicest and most unique mansions Manhattan has ever seen," according to listing broker Ivan Hakimian of Itzhaki Properties, calls have been pouring in from private schools, museums and, once again, investors looking to open medical offices. For the right price, Hakimian said, the sellers would consider abandoning the mega-mansion goal.
According to Anne Snee, a townhouse specialist and a senior vice president at the Corcoran Group, that's what tends to happen when times get rocky. "When financing is tight, it has to be somebody who is an all-cash buyer. There are a lot of very, very wealthy people around, but obviously that pool of buyers is far smaller when people don't know what's going on [with the market]," she said.
Still, in a city of densely packed co-ops and condos, there's a certain cachet to having a house to call your own, and brokers for the largest of them hold that there's a buyer for everything — especially in New York.
Take 4-8 East 94th Street, for example. The 60-foot-wide property — created through the combination of three neighboring townhomes over the course of the 20th century — was most recently a seven-story office building. But its 24,463-square-foot interior has since been gutted, and Corcoran's Carrie Chiang and Loy Carlos are now marketing the space for $35 million to "a discerning purchaser who desires the ultimate New York mansion."
That's $1,431 per square foot. By comparison, the largest apartment on the market at ultra-luxe condo 15 Central Park West, a 5,600-square-foot combination spread on the 35th floor, is asking $55 million, or $9,821 per square foot.
For Manhattan single-family homes, "the upper threshold tends to be in the low 20,000-square-foot range," said Miller, who runs the appraisal firm Miller Samuel. "There's a diminishing return [beyond that] because the market segment it would appeal to gets smaller and smaller. … The price tag gets to be so high if you look at it on a per-square-foot basis, you are limited as to how many people can afford to purchase it."
Indeed, mega-mansion sellers appear to be finding just that. The Henry T. Sloane mansion has gone from $3,504 per square foot to $2,135 per square foot in the more than two years it has sat on the market. Meanwhile, 4-8 East 94th Street was originally listed for $59 million; at $35 million, its price per square foot has been slashed by around 41 percent.
But Snee said that's all a function of the market.
"Is [a mega-mansion] going to fly off the shelf right now? Probably not. Will it, given better times? Very likely."