On a frigid night, Times Square gets a lot more bling
Vornado launches giant LED billboard, set to be one of the city's priciest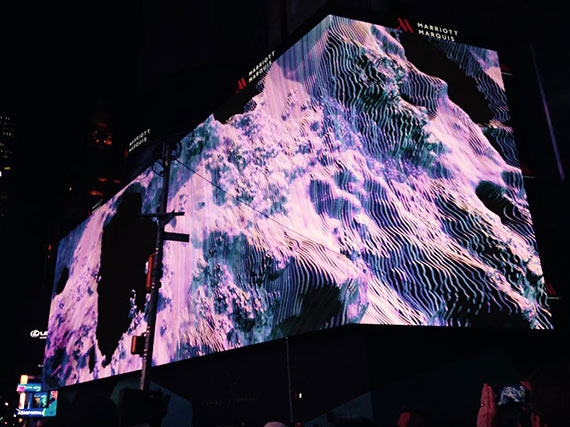 A countdown clock on Times Square usually means Ryan Seacrest is around and the ball is about to drop.
While the ball can stay in its place for six more weeks, another important launch occurred at the world's most famous — and most well-lit — square on Tuesday night. The countdown clock in question reached 0:00:00 around 7 p.m. on Tuesday night, when Vornado Realty Trust launched the city's largest digital billboard. The massive screen is made up of 24 million LED pixels. It spans roughly the length of a football field and runs The Entire Block Between 45th And 46th Streets On The Broadway-facing facade of the Marriott Marquis hotel.
Vornado is asking monthly rents of more than $2.5 million for the billboard, making it one of the city's priciest outdoor advertising spaces. Google will become the billboard's inaugural client next week, with a campaign set to extend into the new year.
The size of the screen is impressive — overwhelming almost — and led to a giddy sense of excitement among the roughly 200 real estate executives and their guests on Tuesday night as the flip was switched to turn on the new, digital billboard. In fact, according to one Mitsubishi employee who attended the event, the "flip" was more like a "click." At the momènt supreme, the screen was activated by the simple double click of a mouse. A small click for man, a huge leap for Times Square, so to speak.
The night started downstairs, at 1535 Broadway, where guests enjoyed personal servings of bacon-sprinkled macaroni and cheese. Due to the frigid temperatures, Vornado's chair and CEO Steven Roth kept his hat, gloves and scarf on as he addressed the crowd.
Guests then spilled into Times Square, setting themselves apart from the rest of crowd by watching the launch of the screen — and the premiere of a digital performance by the Universal Everything collective — from a cordoned-off area in the middle of Broadway.
Speakers blasted ominous music that accompanied the artwork, which at times seemed as if were three-dimensional. Tourists, New Yorkers and even those dressed up as Elmo stopped in their tracks and took out their phones to capture the moment. Before the launch, the billboard displayed a countdown clock and the somewhat philosophical phrase, "Change is constant."