Scorecard: Manhattan leasing
A roundup of news and data on the residential and commercial markets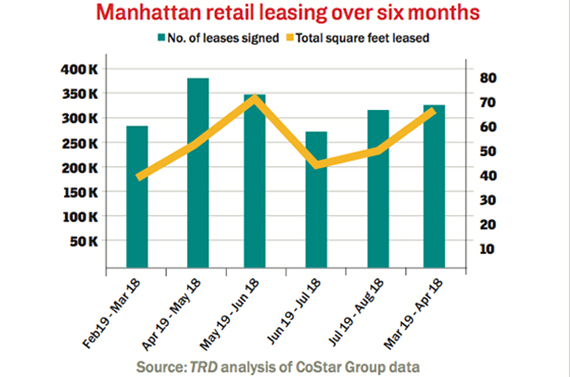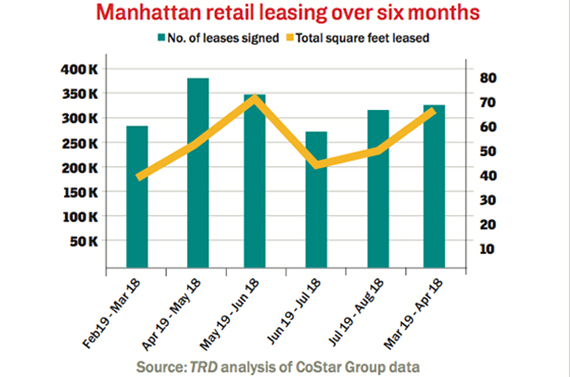 From the September issue: Retail tenants avoided the city's priciest stretches in the past six months, instead striking deals in up-and-coming areas. Meanwhile, office leasing pulled back, following a spring surge.
Retail leasing along two of Manhattan's most popular shopping strips, Broadway in Soho and Fifth Avenue between 49th and 60th streets, is at a near halt, according to The Real Deal's analysis of CoStar Data. In the six months ended mid-August, there were no major leases signed on Fifth, where availability is limited, and just two on Broadway, where about a quarter of the space is available."Leasing velocity on these great corridors has slowed dramatically, due to the disparity between rents that have soared and retail sales volumes that have plateaued," said Jared Epstein, vice president at Aurora Capital Associates.
Office leasing, which hit nearly 4 million square feet during a 30-day period in the spring, is now at about half that, TRD's review found. "I think we are in a little bit of a slowdown," said Barbara Raskob, director of leasing at the Kaufman Organization.
Dirk Hrobsky, executive vice president at brokerage DTZ, said large lease signings are down year to date from 2014, but the number of office workers is rising. That bodes well for the fall. "The trend is our friend," he said. "And the trend is moving in the right direction. Employment is going up."